Take Action!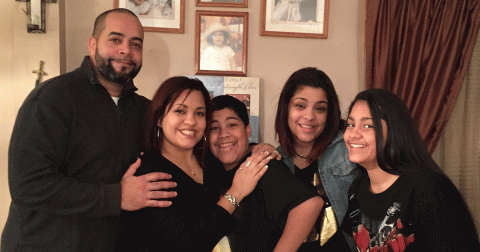 I will NOT go broke when I get sick.
My name is Desiree Rosado, and I'm writing to say thank you for the precious gift of paid sick days!
Let me explain. 
A few years ago, all three of my children got sick with the nasty H1N1 flu. I ended up missing several weeks of work to care for them. I got no sick pay and my husband and I slipped deeper into debt. It took us years to dig out. 
No parent should have to choose between caring for a seriously ill child and a paycheck or a job.
With the help of MomsRising, I shared my story with Connecticut lawmakers. Soon after, Connecticut passed the nation's first statewide earned paid sick day law. It's made an enormous difference to me and to many families in Connecticut.
Without a doubt this victory began with a gift from someone like you.
MomsRising needs your contribution to take this paid sick days campaign all the way to the national level. Before Dec. 31, make a contribution to support MomsRising and another donor will double your gift! 
The good news is that a movement for paid sick days is sweeping the nation and in 2014 alone, two states and ten cities passed paid sick days bills – that's more than all the measures that passed from 2006 to 2013 COMBINED!
Because of this impressive streak of wins for paid sick days, more and more members of Congress are signing on to co-sponsor The Healthy Families Act, a bill that would expand access to paid sick days nationwide.
This momentum is needed. Right now, ridiculously, nationwide, 80% of low-wage workers don't have access to a single paid sick day. This is despite the fact that having access to paid sick days is proven to save funds and is a basic workplace protection in most other nations.
MomsRising won't stop until EVERYONE has the ability to earn paid sick days.
MomsRising knows what it takes to mobilize and win. With your support, we'll bring forward the voices of families to let every member of Congress know: We are watching you, and we expect you to stand up for paid sick days for our families.
You can be part of this extraordinary movement for paid sick days for all when you make a contribution to MomsRising today. 
Thanks for all you do.
Sincerely, 
Desiree Rosado
Mom to Bella, Alicia and David
MomsRising volunteer
P.S. Are you fired up yet? We simply can't take the next steps without your support today. Your contribution could be the one that helps us hit our urgent $25,000 year-end fundraising goal. Double your power – give now. Thank you!