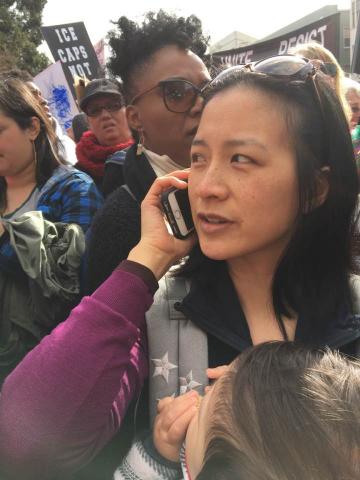 I Said Yes: Stepping Into Leadership for Justice
I've been on vacation with my family in SoCal these past 10 days. We took the kids to Knott's Berry Farm, the beach, the science museum, toured an old warship in Long Beach, visited the aquarium, La Brea Tar Pits, and so much more. A fun, but very full trip.
Right before we left town, one of my oldest and truest friends asked if I could help her and her friend Rae with some behind-the-scenes national organizing for hunger strikes they were planning, in support of the incarcerated families who have been ripped apart at the border. I hesitated, knowing my plate would be full the next two weeks. My first instinct was to back down. I wanted to say no, I couldn't possibly find the time to help. I'd be busy with family. With vacationing.
But then, miraculously, I opened my mouth and found myself saying Yes. And then I did it. After the kids went to bed each night, at my cousin's place where we were staying, I hopped on the computer and did what I could for an hour or two. Organized spreadsheets. Emailed folks. Little steps that all contributed to the greater good. And the incredible thing was it turned all my sorrow and helplessness of the past few months into motivated action. And it didn't take much. Spending those few moments a day checking in and helping folks reenergized me. Showed me that I could do a lot for others in small chunks of time that I didn't think I had.
I remembered Carolyn, another organizer  speaking at a protest a few weeks ago in Oakland, at the Sheriff's office. She spoke clearly over the crowd of 100 parents, and children, and family gathered. She told us that if she were the one on the other side of the walls, separated from her children, that she would want the people on the outside to be fighting just as hard to reunite her family. To demand justice.
That thought really stuck with me. As Rae says, "We are the leaders we've been waiting for." We can be the ones to step up. And it doesn't take much, just the willingness to say Yes.
For more information, check out http://www.solidarityhungerstrike.com/.