I Am Voting for My Mother-in-law's Health Care, My Family's Economic Security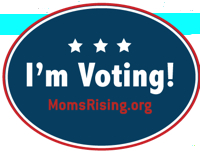 If there is a major reason I am voting this election cycle it is this: the Affordable Care Act.
My mother-in-law relies on my husband and I as her primary caregivers. And thanks to health care reform, our family is saving thousands of dollars a year in prescription drug costs for her. For working families like ours that live paycheck-to-paycheck this is huge, huge help.
Both my husband and I work and my mother-in-law, who has Alzheimer's and has had a stroke, lives with us. We do everything for her: we feed her, bathe her, pay her bills, take her to the doctor and make sure she takes her medicine and vitamins: 12 total.

(Photo from left to right: my daughter, my mother-in-law, my granddaughter and myself)
Before President Obama signed the ACA into law two years ago, we paid out-of-pocket for her prescription drugs -- up to $1,000 a month! Financially, this crushed us. We chose to pay for her medicine and were late on our mortgage payments.
Then the ACA passed and the Medicare "donut hole" was closed. Now we are lucky to pay $20 for her prescription drugs, and we are able to make our mortgage payments on time. And we are not alone. Closing the donut hole has meant that our seniors with Medicare coverage have saved $4.1 billion on prescription drug costs.
Caring for my mother-in-law has been trying and rewarding at the same time. I am grateful for the help we have received thanks to the ACA. Next week, I will vote for my family's health and economic well-being.
Check out why other MomsRising members are voting on our cool interactive map. Don't forget to share your story!
Fired up? Join MomsRising today - it's free!