I Am Voting Because Health Care Coverage Is Important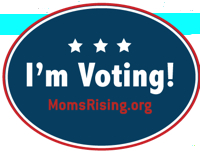 Thanks to a provision under the Affordable Care Act that allows children to remain on their parents' health insurance plans until they are 26, I have two adult children on my health insurance plan.
After he finished college, my 22 year-old son began working full-time for a small business that does not provide health coverage.
My 24-year-old son attends graduate school full-time and works part-time. If he didn't have health coverage, my son would have to drop out of school and face poor job prospects in our present economy, impacting his career earning potential and capacity to support his family in the future.
My family is not alone.
Employer-based health coverage has steadily declined in the last decade and now only 58% of employers offer health care benefits.
Young people are particularly affected. In 2010, approximately 33.9% of young adults 19 to 25 were uninsured, though that number has dipped to 27.9% in 2011 after the Affordable Care Act's young adult coverage provision took effect. Any parent and young adult child navigating coverage options should review the Young Invincibles "Getting Covered" toolkit to learn more.
As a mother of five, access to healthcare is very important to me and a major reason why I'm voting in November.
Check out why other MomsRising members are voting on our cool interactive map. Don't forget to share your story!