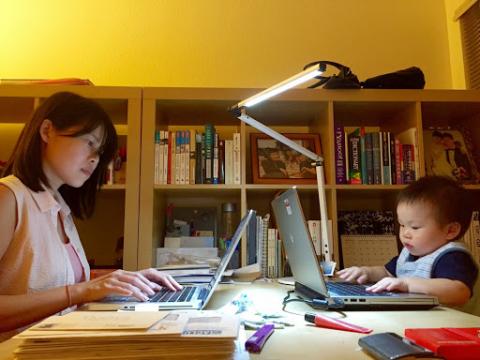 I'm A Freelancer—Where's My Paid Family Leave?
October is National Work and Family Month. Working Mother Magazine identified 100 businesses that take their obligations employees seriously, first and foremost with paid family leave. These businesses are dragging the country toward something approximating a civilized social safety net, which is awesome—unfortunately I don't work for any of them. I'm one of the approximately 53 million freelancers and independent contractors in the U.S.
Yes, I could theoretically stop working for a period of time to welcome my new child into the world. I have been saving for this very reason for quite some time, making sure my savings account can absorb that kind of hit. But according to Market Watch, most Americans have less than $1,000 in savings. That says, many people don't have one employer for who they work from 9 to 5, five days a week, but they still need paid family leave. What might benefits and protections look like for them?  
Some states and cities have been the incubators. If you're a freelancer living in California like me and pay into the state's Disability Elective Coverage Insurance, you have access to paid family leave. If you live in San Francisco and make less than $54,000 a year, Healthy San Francisco will provide you heavily subsidized health insurance. If you are an independent driver in New York City, the city established the Black Car Fund that levies a small tax on every taxi or livery ride in order to maintain a worker's compensation and disability fund for all the city's drivers.
Some labor leaders and worker advocates played a role. The Freelancers Union, an advocacy association and a labor union, has tried to bridge that gap. It claims 300,000 members nationwide, mostly in creative industries like media and the arts, and mostly in the New York metropolitan area. The Freelancers Union nevertheless offered its members health insurance before the Affordable Care Act, and currently provides one of the very few 401k retirement programs available to non-salaried employees.
While states, cities, and individuals are trying to solve the problem, the federal government cannot be off the hook. We need a social safety net for the workforce of today, a suite of benefits and protections that can be paid for by different employers at different times, moves with a worker from job to job, and is available regardless of whether the worker is salaried or freelance or contract. We need policy—government set the rules and everyone plays by them.
President Obama called for increased paid leave and portable retirement benefits in his final State Of The Union speech. A month later, his last budget included $2 billion for state-level paid leave initiatives and another $100 million to fund experiments in portable retirements benefits.
Of course, the DC council recessed for the summer in July, leaving that budget unfinished on the congress's side, so whether or not this is a first step toward real benefits and protections for freelancers and independent contractors remains to be seen. In the meantime, last week the U.S. Department of Labor finalized Obama's Executive Order on paid sick days, ensuring access to paid sick leave for over one million people working on federal contracts. This is a great news and an important start.
By the way, October is also Breast Cancer Awareness Month. And according to a recent state form the UNC School of Medicine, access to paid family leave helps boost breastfeeding rates, which in turn reduces rates of breast cancer. Paid family leave saves lives. It's time for us to #LeadOnLeave.