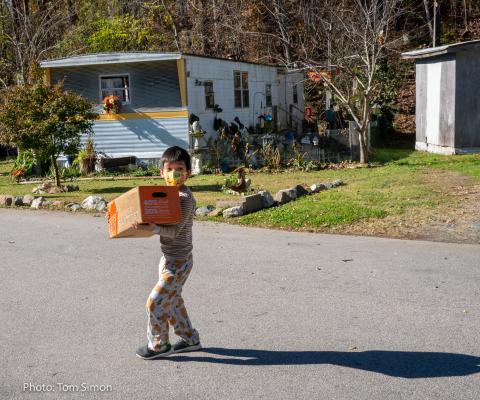 Hunger Relief During the Pandemic: A Photo Exhibit by Tom Simon
In his new exhibit, North Carolina photographer Tom Simon captures both the faces of hunger and the communal efforts to alleviate hunger that touch multiple geographies, cultures and systems throughout the state. The 35-photo exhibit, Lifeline: Hunger Relief During the Pandemic, was recently on display at The ArtsCenter in Carrboro, NC, and can now be viewed online here: https://tomsimon.myportfolio.com/lifeline-hunger-relief-during-the-pandemic. You can also follow Tom on Instagram at @sisimon678.
Tom Simon is a documentary filmmaker and tv producer who was volunteering as a photographer for local non-profits when the pandemic hit. He became interested in the weekly food distribution efforts that popped up during the pandemic, and decided to document what he saw. He writes, 
As I photographed this effort across North Carolina's Triangle region, I began to see it as a human chain that starts with farmers, food service workers, donors, volunteers and so many more. It reaches all the way to the table of those who are hungry. Who are the people who make up this chain – this Lifeline – that's stretched so thin during the pandemic? What I found was an abundant sense of community, compassion and a mission to help those in need. In the recipients there is gratitude, pride and a resolve to keep themselves and their families whole in the face of a crisis that seems to have no end. Above all, I've been inspired and invigorated by the humanity on display. 
We appreciate this portrait of our community in a time of crisis. Tom's work illuminates the extent of the need without sacrificing the dignity of recipients. His photos elevate the humanity and ingenuity of community members to overcome systemic failures during this crisis-- failures that are sometimes mis-attributed to individual shortcomings.