Hundreds of Women Bring Heat Storm to NY City Hall for #PaidSickDays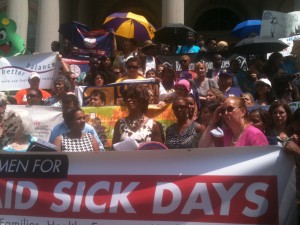 The security guards at New York City Hall were overwhelmed, not only by the 107 degree heat index, but also by the constant bustle of hundreds of women equally hot about the conditions of working women. "Only five at a time!" they yelled to the crowded line desperate to get out of the sun and through the metal detectors.
On the hottest day of 2012, women leaders gathered on the steps of City Hall to raise their voices of for paid sick days. Icons like Gloria Steinem, elected officials like Councilwomen Tish James and Gale Brewer, and leaders for low-wage working women like Ai-Jen Poo, affirmed in one voice, loud and clear that no parent should have to choose between caring for their sick child and losing a day's pay or their job.
"Nearly a million working people in New York lack paid sick days. Most are women in low-wage, service sector jobs. They are waitresses, cashiers and home health aides. Many are immigrants; few have political clout. Yet their work contributes to the economic growth of the city." – Ai-Jen Poo, executive director, National Domestic Workers Alliance
Ai-Jen Poo Director, National Domestic Workers Alliance & MomsRising Board Member
Sweat poured down my face while we assembled on the steps. I thought of my own children and the times I've had to stay home with them when they were sick. What would I have done if I would have been docked a day's pay, or worse, been fired? I don't know the answer but I do know that this is a critical issue that impacts everyone.
Why should people who HAVE paid sick days care? Well, on a day like this, we are all reminded. There is nothing quite like a New Yorker's daily commute to work in a heat wave. Millions of people experience the smoldering heat on the way to a crowded subway station.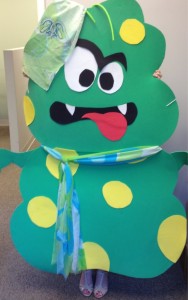 As trains pull into station platforms they push more hot steam onto commuters. Eagerly, passengers enter the subway car anticipating a burst of relief from the air conditioner. Instead, often times, they are greeted by a fellow commuter's hot wet sneeze!
The lack of paid sick days is bad for the health of all workers and bad for the economy. If workers could earn sick days, it would reduce health care costs, reduce the spread of contagions, protect people's jobs and financial security, and boost businesses' productivity. Get this, almost 90% of workers handling food, and 43% of workers in close contact with children or the elderly do not have paid sick time. A whopping 40 million people in the United States don't have access to a single paid sick day. In fact, nearly 80% of low-wage workers and 40% of private sector workers don't have access to a single paid sick day. And this means that many people have little choice but to go to work sick--rather than staying home to get better and risk losing a day's pay or even losing their job.
This is beyond bad for public health. One study estimates that if there had been a national paid sick days policy in place in 2009, 5 million (!!!) cases of the flu could have been avoided during the H1N1 pandemic.
Seattle, San Francisco, and Connecticut have successfully enacted paid sick days policies. And in San Francisco, a recent survey has shown that paid sick days have NOT had the negative consequences opponents feared, the policy was easier to implement than anticipated and employees are not abusing the system. That's why women leaders are working hard to make sure that New York City can be among the first to put in place a smart and sound policy that promotes health and boosts business.
Despite widespread public support and a veto-proof majority of 37 City Council Members signed on as co-sponsors, New York City Council Speaker Christine Quinn has refused to bring the Paid Sick Time Act to a vote.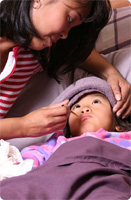 This leaves the approximately 1.5 million New Yorkers who can't earn a single paid sick day, to continue to have to make a horrible choice between the job they need and caring for the child they love.
Join MomsRising and our partners at A Better Balance, ROC New York, 1199/SEIU, Make the Road – NY, and Working Families NY in calling on City Council Speaker Christine Quinn to bring the Paid Sick Time Act to the floor for a vote!
Sign-on here: http://action.momsrising.org/sign/HotMoms/

And check out more about paid sick days on Sick!/Episode #9 at  MomsRising Radio! http://itunes.apple.com/us/podcast/moms-rising-radio/id533519537