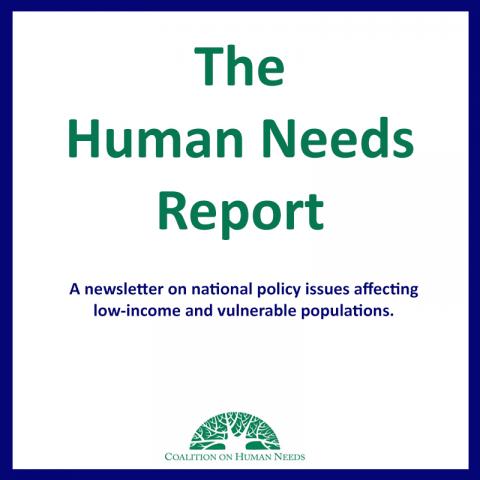 Human Needs Report: Advocates' defeat ACA repeal bill, FY17 & FY18 spending work, Supreme Court confirmation and more
The Coalition on Human Needs just released our latest edition of the Human Needs Report. Read on for articles on what's next for ACA repeal efforts, FY17 & FY18 budget and appropriations work, a Supreme Court confirmation vote and more.
Click here for the full PDF of the Human Needs Report.
Advocates' Efforts Defeat ACA Repeal Bill
Advocates celebrated on March 24 when House Speaker Paul Ryan canceled a vote scheduled for that day on the House GOP plan to repeal the Affordable Care Act and dismantle Medicaid. The vote was canceled after it became clear that Republicans did not have enough votes to pass the legislation, due in large part to the persistent work of advocates who made their opposition to the bill known to their representatives. The future of the GOP's efforts to repeal the ACA remain uncertain, but advocates fear other attacks to health care and specifically to Medicaid may come in other forms. READ MORE »
FY17 Appropriations Seek to Avoid a Shutdown
Congress is only scheduled to be in session for eight days in April, which doesn't give members much time to finish up work on FY17 spending bills before the Continuing Resolution through which the government is funded runs out on April 28. Members of Congress on both sides of the aisle have said that President Trump's supplemental request, which contains big cuts to human needs programs, won't be included in the FY17 package due to the late nature of its filing. READ MORE »
President Trump and Congress Look Ahead to FY18 Budget
The Trump Administration released a preliminary FY18 budget request (also called a "skinny budget") to Congress on March 16. It included $54 billion in additional funding for the Pentagon, paid for by equal cuts to nondefense programs, including critical human needs programs. Learn more about the disastrous cuts included in the proposal, as well as what's ahead for FY18 in Congress. READ MORE »
Labor Secretary Nominee Passes Committee on Party-line Vote
The Senate Health, Education, Labor, and Pensions Committee voted along party lines to send the nomination of Alexander Acosta, President Trump's second nominee for Labor Secretary, to the full Senate. Several CHN members opposed his nomination. A date has not yet been set for a full Senate vote. READ MORE »
SCOTUS Confirmation Vote this Week
The Senate is scheduled to vote on April 7 on Judge Neil Gorsuch's nomination to the Supreme Court. To confirm him, the Senate GOP will have to go nuclear. Advocates have been strong in their position that if Gorsuch doesn't have the 60 votes required for confirmation, Republicans should change the nominee, not the rules. READ MORE »
President Repeals Rule Affecting Workers
President Trump recently signed legislation repealing the regulations implementing the Fair Pay and Safe Workplaces Executive Order previously issued by President Obama. And the Senate voted to repeal a rule that would allow cities to create retirement savings accounts for private sector and low-income workers whose employers do not offer retirement plans on their own. Advocates took some comfort, however, in the fact that the deadline for introducing legislation under the Congressional Review Act that targets Obama-era regulatory protections elapsed on Thursday, March 30. READ MORE »
These articles are from the latest edition of the Human Needs Report, the regular newsletter on national policy issues affecting low-income and vulnerable populations, from the Coalition on Human Needs. Sign up to get the Human Needs Report delivered directly to your inbox, subscribe to our blog, and follow CHN on Facebook and Twitter.