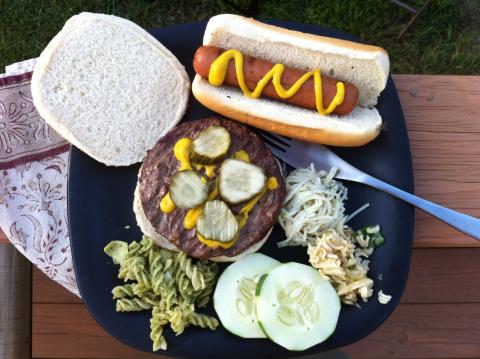 How your summer cookouts can protect public health
Happy summer!
It's a long-standing tradition: firing up the grill to ring in the start of hot summer days.
As a kid, I was never much help as my parents and family friends barbecued. My friends and I preferred to run around causing mayhem. We laughed and yelled as we stumbled and bumped our way across the grass and asphalt. The scraped knees that resulted twinged a bit, but they never ruined the memory. I can (and do) thank antibiotics for that.
With antibiotics, we can enjoy the summer free from the worry that a stumble on the sidewalk or a minor burn from the grill could turn into a serious illness. So what could be a better centerpiece to the picnic table than meat raised without routine antibiotics?
Active summers are just one reason among many that stopping the overuse of antibiotics is so important. For years, the majority of livestock and poultry raised in the U.S. are given antibiotics they don't need, in order to maintain unhealthy conditions and promote growth. As that practice continues, bacteria become resistant to these drugs. When they spread off the farm and into our communities, they can cause illnesses that are difficult, if not impossible, to treat.
You can help stop that practice by purchasing meat raised more responsibly.
While I wouldn' be so bold as to tell you what to buy or eat, if you're looking, here are five brands you can trust to raise their meat without the use of routine antibiotics:
Applegate: Corndogs, turkey burgers, and sausages produces without the use of antibiotics is a core part of Applegate's mission. The brand's products are relatively easy to find, and available in a variety of locations nationwide.
Nature Raised: Classic steaks and chicken are the focus of this brand, which advertises "No antibiotics ever" prominently on their website. The brand's products are available in numerous locations nationwide.
Perdue: Chicken sold under Perdue's 'Coleman', 'Harvestland', 'Perfect Portions', 'Simply Smart' brands, and some "Perdue"-branded products, are raised without antibiotics. They're also among the most widely-available such, available in many major retailers.
Niman Ranch: Perhaps the standard-bearer for responsible meat production, Niman Ranch sellsbeef, lamb, and pork raised without antibiotics. If animal welfare is something you're concerned about, this is a good brand to look for: all their meat is pasture-raised and subject to extensive welfare protocols. Niman Ranch meats can be harder to find, but are available nationwide.
Your local deli counter: Talk to your local butcher! As consumer support grows for meat raised without routine antibiotics, many producers are responding. However, the vast majority of meat still comes from animals raised with unnecessary antibiotics; shopping at the meat counter enables you to ask. The butcher or salesperson should be able to tell you about the meats' origins. Otherwise, the meat you're looking for may be labeled "raised without antibiotics," or a similar variation. [Note: "antibiotic-free" is not a useful label!]
As consumers are increasingly demanding meat raised without the routine use of antibiotics, the industry is changing. These products are becoming more widely available, cheaper, and more diverse. By supporting one of these producers, you can be a part of that market shift, and help ensure that June 20th continues to kick off a season of rambunctiousness and adventure.