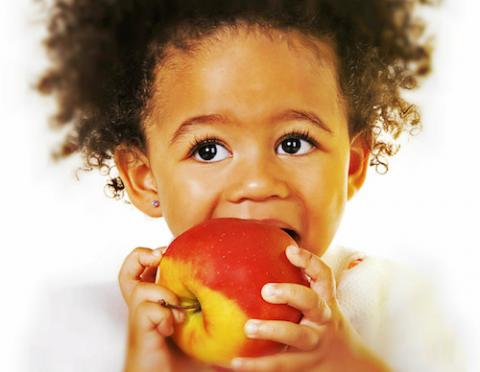 How to Protect Yourself from Dangerous Pesticides
Conventional farming of many fruits and vegetables often relies on toxic pesticides, like organophosphates, that leave harmful residues on food, drift into neighboring communities and poison farmworkers. Children and pregnant women are especially vulnerable because even low level exposure can threaten the development of the brain and nervous system. Within the family of organophosphates, chlorpyrifos is a commonly used product whose risk to the food supply has alarmed pediatricians and policymakers.
In contrast to conventional production, organically-grown produce is far less likely to be contaminated with pesticide residues. Organic fruits and vegetables are regularly tested for residues, and those tests regularly show no chlorpyrifos residues. For example, USDA test results for apples, the top fruit consumed by American children, show no chlorpyrifos residues on domestically-grown organic apples. And when kids are fed organic diets, levels of chlorpyrifos and other organophosphates in their systems plummet.
Organic farming also prevents poisoning of farmworkers and communities, and sustain natural resources like soil and water.
For parents wondering how they can best protect themselves and their families from dangerous pesticide residues lurking on their food, purchasing organic as much as possible while pregnant or when feeding kids is an important step.  
The biggest difference between conventional and USDA certified organic foods is in how they are produced—and that is intimately tied with their impacts on our health. The USDA's organic standards center around a list of approved and prohibited inputs for organic production, including but not limited to synthetically created chemical pesticides. This means that organic agriculture prohibits use of chlorpyrifos or other organophosphates.
Testing shows that conventional produce is significantly more likely to have pesticide residues on it and to be contaminated with multiple pesticides. EPA reports chlorpyrifos residues on conventionally-grown fruits that kids love like apples, oranges, berries and melon. Scientific analysis conducted by the agency has concluded that the amount of this chemical ingested by young children could exceed safe levels by 140 times.
The amount of chlorpyrifos, and other pesticide residues, consumed by one person in a day can add up quickly as many different foods contain residues. Kids are impacted by the totality of exposure to chlorpyrifos across their diet, not on any one food item. That's why NRDC and our allies are fighting for a ban on all agricultural uses of chlorpyrifos