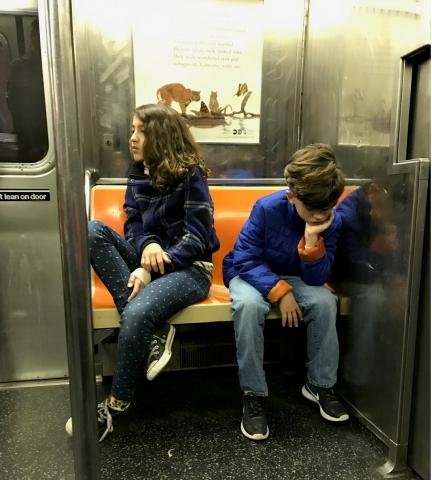 How to Help Children on Long Car Trips or Plane Rides
I was sweating at the base of my spine thinking about the possibility that my two-year-old would wake up from her nap and I would have to tolerate all of the passengers staring and judging. This was my first trip alone on a flight with my daughter and my mind was whirling with multiple worst-case scenarios. I was lucky that first flight. She slept the entire 3.5 hours from Miami to Bogota. What I did not plan was the time in Bogota and the realization that it wasn't really a vacation. What I had just chosen to do with my toddler was to take "our show on the road".
What I mean by that is that traveling and vacationing with young children (under 7.5 years old) is really only a change of venue for what you do on a regular basis in your home. It is important to be mindful of this reality. Plan and create appropriate expectations of your time traveling so you, the adult, can have a pleasant and realistic vacation with your young ones. Here are some tips to manage the plane, car and time away in all the age groups:
For Children under 5:
• When traveling with young children we must remember the ones who need to adjust are the adults, not the little ones. To be seated without play and exploration in a car or airplane is difficult for them. If they have tantrums or lose patience, speak to them with compassion and remember how difficult it is to be out of their daily routine
• Try to travel in the hours when children are usually asleep. The sleep rhythm of their bodies will take over and they will sleep during the trip.
• Bring them a large selection of toys and activities they can do during the trip. Most kids under 5, change their activity every 10 to 15 minutes- keep this in mind to select toys and activities. This is incredibly important for children under three. Pack that bag of toys!
• Play and talk with them. Having that circle of care and connection with your children helps them stay focused and calm. The time they have in connection with you will keep them motivated and regulated. Sorry, no reading or lounging when traveling with children.
 
"Most children will not tolerate traveling the way an adult does, until they are well into their 12th year.  Be mindful that they can't manage what you do as an adult." 
For children 6 and above:
• Predict the length of the trip. Help them understand how much of the trip they need to use their patience, keep their bodies still and their voices low.
• Plan and pack with them what they will bring to entertain themselves. Most kids are using screens on long trips but choose if that is what you want your child to do the entire ride. A long car trip can be a time to speak and get to know what's going on for your child
• Most kids like cards and board games. The ones under 10 will love it if you play with them. I encourage all of you to find a moment on the plane to engage in a game with your kids
• Be mindful of the time they are spending away from friends. If your child is 12 and above years old, they will be texting with a friend; let them be. Their social world is important. They want to share some of what they are doing with you with the other important people in their life. (Just like you making that post on social media)
• For teens, 13+ wonder with them if they want to see or explore anything in the area that you are traveling. Tell them about the area and plan a day or an afternoon together, do something they choose. You may be surprised at what they come up with.
The MUST Do's for the Caregivers/Parents/Grown-ups
Plan Ahead and Set Realistic expectations: This is true of every day in parenting but most importantly while on vacation.  Make sure that you remember to take care of yourself before you handle the children. It is a vacation after all. 
 You take the oxygen first, then give to your child.
Think and strategize together about when you will need assistance, time to yourself (recommend a minimum of 15 minutes/day), or the acceptance that the children may meltdown because of that late-night dinner with friends/family.  
Be clear on the expectations of each caregiver and what they each will do and manage.
Use each of your strengths and divide & conquer tasks based on your strengths. 
Understand the influence of the extended family and friends around you.  Do you really want to be part of ALL the activities or will you opt out with your family and take some time just your nuclear group?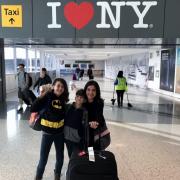 Here's to a great time on your vacation! Plan and manage your expectations and taking "the show on the road" won't hurt as much.