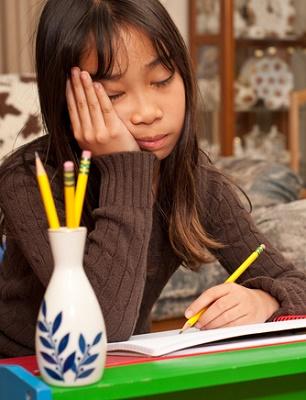 How to Get Enough Sleep This School Year
I'm a big advocate of getting sufficient sleep. While sleep is one of the basic biological and physiological needs, we parents tend not to give the topic the attention that it deserves. In reality, sleep is as important to our overall family health as our nutrition and exercise. It is so important to make sleep and being well rested a priority for the entire family. That is why I strongly suggest that you make sure that the entire family is getting the sleep that they need if you want to set your children and yourself up for a great school year.
While every person - child and adult - is different, I tend to trust the guidelines set out by the National Sleep Foundation.  Recently, the foundation updated their guidelines on how much sleep is needed at various ages. The chart now features minimum and maximum ranges for healthy sleep based on ages as well as recommended ranges. Click here for a downloadable recommended sleep times chart.
I like to test the range - from the minimum to maximum recommended hours - for both myself and  my kids in order to see what works best. As a 42-year-old adult, the minimum amount of hours that I should sleep is 6, the maximum is 10 and the recommended range is 7-9. Eight hours works the best for me. Meanwhile, my school-age sons (ages 8 and 11) have different needs. The minimum amount of hours that they should sleep is 7-8, the maximum is 12 and the recommended range is 9-11. Nine hours tend to work best for them. I recommend testing your kids and yourself to find out your personal sleep "sweet spots". (i.e. For parents, if you feel like you can't get through the day without the stimulation of coffee or energy drinks, then perhaps you need to get more sleep.)  
In any event, there are a couple of things that have helped my family to make sleep a priority over the years:
1. We stick to a (seasonal) schedule. I'll admit that my husband and I are pretty loose on sleep schedules during the summer as long as everyone gets their needed sleep within a 24-hour period. However, during the school year - when there are definite wake-up times - we are more conscious of setting bedtimes so that everyone gets their necessary hours of sleep..
2. We have consistent bedtime rituals. This has changed over the years based on the ages of our sons. As much as kids protest structure, they tend to do best when they know what to expect. Currently, we don't allow electronics after a certain time at night , but the kids can read in bed. They actually look forward to it!
These are just a couple of pointers, but you can get more helpful ones on the National Sleep Foundation website. I especially like the National Sleep Foundation 2014 Sleep In America Poll Finds Children Sleep Better When Parents Establish Rules, Limit Technology and Set a Good Example piece.
How do you ensure that your family is getting enough rest during the school year?