Pride Month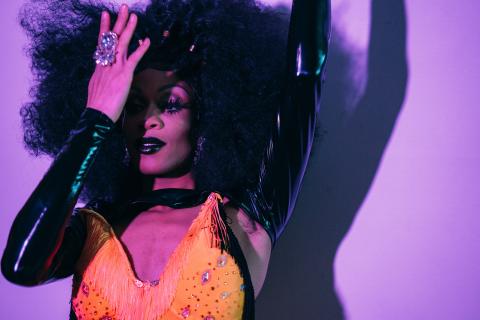 How the Queer Ballroom Scene Shows Us the Meaning of Family
The LGBTQ+ Ballroom Scene has become a sanctuary for many across the globe. Here, individuals can showcase their talent, find support, and embrace who they truly are.
The origin of Ballroom can be traced back to the 1960s where those within the LGBTQ+ Community, especially Black and Latinx transgender women, faced much discrimination from mainstream society. Attending Ballroom events serve as a safe haven. These gatherings offer a platform for people to compete at balls with their dancing and talent in different categories such as voguing, runway, realness, among others. Ballroom "Houses," which function as chosen families, provide a support system and mentorship for their members, offering guidance, acceptance, and a sense of belonging.
In each house there is a "Mother." This role holds a unique and significant meaning to many within the Ballroom scene. The mother is the matriarch of the house, and often a legendary figure within the community. The Mother of the house's job is to provide mentorship, emotional and financial eupport, and a sense of family to the chosen group of individuals known as their "children" or "drag daughters/sons". They also provide their children with a platform to express themselves through a variety of artistic forms including but not limited to: drag performances and fashion.
The relationship between mothers and their children parallels the mother/child dynamic we all know. It's typically based on love, trust and mutual respect. Mothers, like the ones in our day to day lives, often act as mentors for their children, offering wisdom and encouragement to their children as they navigate their personal journeys of both self-discovery and self-expression. They usually identify as transgender women, cisgender gay men, or non-binary individuals, highlighting the diversity of gender identities and expressions within the community.
One of the most iconic concepts in the community is voguing. Inspired by the poses of models in fashion magazines, voguing became a dance style in Harlem in the 1970's characterized by elegant movements and fierce self-expression and has evolved into a dance style that has been seen in a lot of pop culture. The Ball scene itself managed to make a big impression in Hollywood, becoming an inspiration to both Madonna's 1990 hit "Vogue" and more recently the critically-acclaimed television series "Pose". The much beloved RuPaul's Drag Race played a critical role in bringing the Ballroom community over to television's main stage.    Although its roots began within specific groups, it has grown to become an inclusive space that welcomes people of all backgrounds and identities. Ballroom culture has become a beacon of visibility and support, shedding light on the struggles, triumphs, and resilience of the LGBTQ+ community. As we continue to evolve and strive for a more inclusive society, let us celebrate and honor the contributions of the LGBTQ+ Ballroom Scene, appreciating the power and uniqueness it brings to our world.