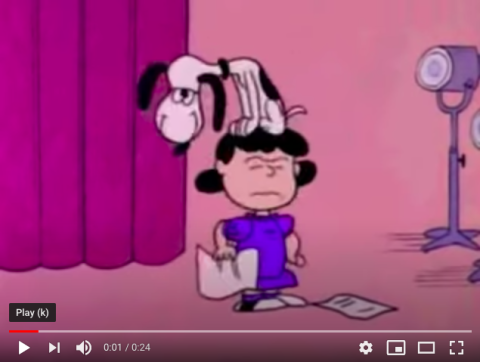 How I Updated My 2020 Holiday Plans
In a year turned upside down, the holiday song that goes, "It's the most wonderful time of the year" feels wrong, almost horrifying. As COVID-19 cases continue to rise and hospital beds continue to fill, we're doing our part to slow the spread of the virus and keep ourselves, our families, and our communities as safe as possible.  
We'll still honor some family holiday traditions-- pulling out our favorite fluffy blankets, making my special hot chocolate, watching A Charlie Brown Christmas and re-enacting the scene where Snoopy says "Blehhh!"
And we'll modify other traditions. We're lucky to live near my parents, but this year we won't be gathering to share a meal. Instead, we'll leave goodies and gifts at their front door, ring the bell, and wave from the curb while wearing masks. And we'll be doing plenty of video calling with family and friends near and far.
The Centers for Disease Control and Prevention (CDC) strongly recommends we all modify our plans for the upcoming holiday season to slow the spread of COVID-19, including celebrating virtually with people outside of your household. They also offer tips for handling holiday stress.
If you do decide to attend a gathering, here's a quick and easy checklist of how to lessen your own risk and that of your loved ones: 
Consistently practice social distancing
Wear your mask over your nose and mouth the entire time
Wash your hands before, during, and after the gathering (if you're like me, you might also have a little bottle of hand sanitizer in your purse or pocket)
Limit the number of attendees as much as possible 
Avoid direct contact with people outside of your household
Celebrate outside where attendees have more room to stay 6 feet apart at all times and and where there's better ventilation than indoors
Require attendees to wear masks whether indoors or outdoors
Look at COVID-19 infection rates where a gathering is happening
For that last point, we found this handy tool: https://mycovidrisk.app/ from Brown University School of Medicine. You can enter your ZIP code, whether you'll be indoors or outdoors, the number of people and whether they're masked, and the tool will tell you the approximate risk.
And check out this cool visualization of why you should "cover smart, do your part, slow the spread:"
2020 has been a year of ups, downs, and the totally unexpected. But we can still make our holidays together memorable. I personally can't wait to snuggle down with my kids for our holiday movie tradition. Even if we can't do everything that we always do, by taking a few simple precautions, we can all work together toward a healthier 2021.