Sign up!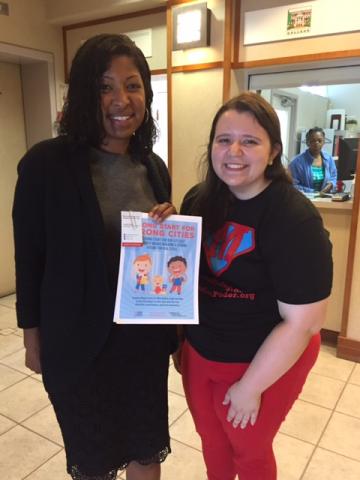 How I talked to cities about early learning
I've been living in the District for a few short weeks and I've already hit the ground running  by visiting with local mayors to talk about early learning!
As part of MomsRising's Strong Start for Strong Cities initiative, my colleague and I stopped by  city offices in Maryland and Virginia to show city officials how they can help advance early learning for their residents.  It was easy! All we did was print the packet and then drop off with city staff at each office.
At every stop, the staff was friendly and excited to speak with us. The whole experience was very inspiring - everything from impromptu meetings to a follow-up call from Alexandria Mayor Allison Silberberg herself! Visiting these offices made me feel like we were making a difference for our community.
Sometimes it can feel almost impossible to create positive change, but then I graduated from college in May I knew that I wanted to make a difference. So when the opportunity with MomsRising arose, I took it with open arms. It was a chance to educate local mayors on ways they could implement programs that are near to my heart.  
My mom decided to leave the workforce when I was born so that she could care for me. Our family was fortunate to even have this choice, but my parents felt that there were no other childcare options that were both affordable and had high merits. Fast forward twenty-two years later and quality childcare is still out of reach for many families and those who do find it often pay thousands of dollars. In fact, for many families childcare costs often exceed the costs of housing, tuition, transportation, and food?!?  
This is a ridiculous burden for many families, but even more so for young families who are already buried in student loan payments, credit card debt, and general high costs of living. By delivering the Strong Start for Strong Cities guide to the Mayor's in Arlington, Alexandria, Takoma Park, and College Park, I was able to give them much needed information about how they could help lift up early learning opportunities for all families.