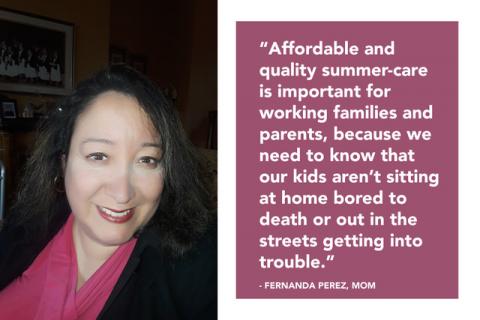 How I Found Affordable Quality Summer Care
Around this time every year, parents across the country struggle with the financial and logistical burdens of summer child care. This summer, I won't be worrying — I know my sons are going to be active and taken care of. And the best part? I won't even have to pay for it.
Our school district in Skokie, Illinois, in partnership with a local community organization, is providing programming, lunches and activities free-of-charge for kids of all ages this summer. They'll be offering STEM classes, a summer reading program, and afternoon movies, just to name a few. As a working parent, I can't even begin to describe what a relief that is. I only wish I knew how every community in America could benefit from programs like ours.
Affordable and quality summer-care is important for working families and parents, because we need to know that our kids aren't sitting at home bored to death or out in the streets getting into trouble. For single parents, it's even more vital. And when the lack of affordable summer programming can sometimes mean an achievement gap, the funded summer programs at our local schools and libraries can help to make sure our kids don't fall behind.
We're so fortunate to have the programs we do in Skokie, and for families that struggle with money, they're a life-saver. My husband and I both work, and sometimes making ends meet is tough. Maybe, once upon a time, Dad could go to work, while Mom stayed home and everyone lived comfortably. But that's not true anymore, and we need our policy and our funding priorities to reflect our new economy. My own dad comes from a different generation, when he could work and my mom could stay home, and he sometimes wonders why my family is struggling. The answer is that everything is going up — the cost of gas and cable and taxes and after-school activities. But our paychecks aren't.
Some people might be lucky enough to have family to take care of kids, and others may not have to worry about money. But for most Americans, that's not our reality.
What we need to do now is to invest in our children, our public schools and our early education programs. Now more than ever, we need to fight hard to make sure the best interests of our kids are at the forefront of policy. As parents, it's our responsibility to be active and involved. Our elected officials unfortunately don't always see what real working families are going through, so we need to make sure they see and hear us. And most importantly, our kids are looking to us for leadership — we're their first teachers, after all.
My hope is that one day, they'll grow up and look back on "when Mom and Dad got involved," so they can be that positive force for their own kids and remember how important it is to stay engaged in their community. We all may come from different backgrounds or speak different languages or eat different foods but underneath it all, we all have the same goals. I know there are so many other communities across the country with similar issues and problems as mine. Let's come
together and be voices of change for our kids.