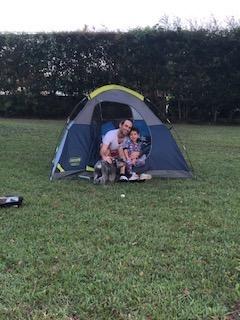 How I Adapt to Quarantine Life
When your camping trip gets canceled, you pitch a tent in your backyard.
The ability to adapt to change, adjust to a new reality, let go of what was and create a new sense of normalcy is the secret to happiness. It's not something you'll find at the end of a treasure hunt. Happiness is a state of being you create within yourself despite what is going on around you.
I've been quarantined many times in my life. After lung transplant, I couldn't leave my apartment for a month, during chemo I stayed home for most of the 4 months and during the countless hospitalizations as a person with cystic fibrosis, I lived in a 10 x 12.
Guess what? You can still enjoy a good meal, a pretty view, a good book because....... you are alive! It's not easy simplifying your life but it's an opportunity to slow down, examine priorities, be grateful for the air in your lungs and the love in your heart. Stay safe, stay healthy and stay happy.