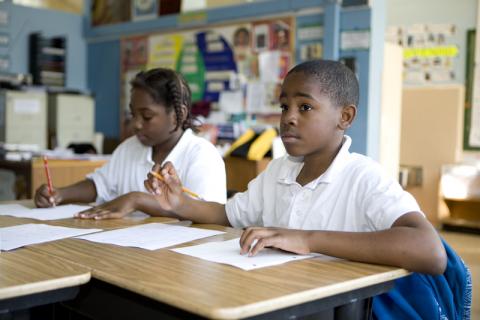 How Healthier Kids Can Mean More Money for Schools
If you're a parent or caregiver of a school-aged child, you're probably familiar with the question, "But do I have to go to school today?" All kids, no matter how much they like school, sometimes want to spend the day doing other things. (I suppose we don't really outgrow that urge…)
But though they may have the occasional desire to play hooky, children typically don't miss school by choice. For many students, school absences aren't voluntary or sporadic – they are routine occurrences connected with more serious health conditions, and often poverty.
Children who struggle with obesity, developmental delays, learning disabilities, and/or asthma are up to three times more likely to miss 10 or more school days per year than their healthy peers. 

Children from low-income families are more likely to suffer those health problems and learning difficulties. 
Low-income children are 86 percent more likely to be obese, 22 percent more likely to have diagnosed developmental delays, 73 percent more likely to have diagnosed learning disabilities, and 47 percent more likely to have asthma than non-poor, but otherwise equivalent, students. 
The research on these relationships is incomplete, but one fact is well established: low-income children are most likely to be regularly absent from school and to suffer from chronic health conditions.
Unfortunately, these disparities carry over into our public school systems. I was surprised to learn seven major states – California, Idaho, Illinois, Kentucky, Missouri, Mississippi, and Texas – use attendance rates to determine funding levels for their school districts, allocating more money to schools with low absenteeism and less money to schools with high absenteeism. Policymakers assume students are absent from school because they want to be, and believe tying funding to attendance can incentivize school districts to make sure kids are in class.
The Problem with Attendance-Based School Financing
In
two new ChangeLab Solutions publications
, Rutgers University professor
Bruce Baker
explains how using attendance rates to set school funding levels penalizes certain schools, and their students, far more heavily than others. Under these regressive policies, low-income districts, which have higher rates of absenteeism, lose an inequitable amount of state aid. This is problematic for several reasons:
Poor schools are made poorer. These schools are ill equipped to serve their students, particularly those struggling with poverty and health issues.
Schools can't intervene to actually improve attendance rates because they lack necessary resources.
Many student absences are simply beyond the control of local public school officials. This is especially true for low-income, chronically ill children.
There is little evidence that these policy strategies effectively incentivize school districts to address nonattendance.
The education policy community has long recognized attendance-based financing systematically reduces funding in high-poverty settings, denying resources and support to the districts that need them most. But budget deficits and financial pressures have forced state policymakers to cut corners, with little regard for the needs of children in cash-strapped districts.
Local Solutions
Localities can buffer the effects of these state policies. Baker suggests
three local strategies
to improve children's health and increase awareness about the connection between student health and attendance. 
First, local policymakers, parents, and advocates should educate state policymakers about the problems with attendance-based funding. They should carefully monitor any proposed changes to school funding policies and take action to prevent the creation or expansion of attendance-based financing.
Second, stakeholders should advocate for local policies that promote children's health.
School wellness policies
can prevent or address chronic disease among students, and localities can ensure both schools and the larger community have healthy food policies in place. To better understand why and under what circumstances children are missing school, schools can track the causes of school absences, too.
Finally, community members can push the jurisdiction to improve housing quality.
Substandard housing conditions, such as poor air quality or pests in the home, can trigger serious health problems for children, including asthma, obesity, and developmental delay.
Baker puts it simply: children's health matters. Chronic illness is a major reason for school absences, and it correlates strongly with child poverty. By reducing state aid to schools on the basis of student absences, states are disproportionately (and substantially) penalizing schools that serve children from lower-income families – children who are far more likely to suffer childhood obesity, asthma, and other chronic diseases, and far more likely to be absent from school as a result.
But local districts and advocates can take action to support schools and students. Our educational system is only as healthy as our children are – if our children aren't in school, schools can't do their job. Of course, every kid wants to play hooky occasionally. But if we can work to ensure occasional absences are not caused by serious health problems, we can help our children feel better, learn better, and grow better.
Photos courtesy of Lydia Daniller.