How a Healthcare Party Helped Me Support a Friend
Recently, I signed-up with MomsRising and Get Covered America to host a "Healthy Homecomings" webinar at my house to learn more about the healthcare exchanges and tips for helping people in my family and community get the coverage they need.  It was a great excuse to have friends over and I wanted to learn more about recent healthcare changes. Hosting the party was surprisingly simple. All I did was invite some friends and neighbors, wrangle my mother into whipping up a few snacks (this is optional, though you should never pass up an opportunity to have my mother bake), and read through a few simple discussion questions. On the evening of the party, we watched a webinar and listened to a live presenter.
And then the most amazing thing happened, we talked—really talked—about healthcare.
After the party, my friend Shari stayed behind. She told me that she was so glad she came, and told me what she did not say to the group, that she has been having health problems and needs to see a doctor. I am glad she stayed; glad we are here in my living room talking about how things really are on healthcare.
I am also amazed at how much people need to share, want to share, when someone really asks "how are you?"
I didn't know until that night that my high school friend, a health professional that spends her life traveling to fill critical medical staff shortages, does not have health insurance.
"I heard so much negative information about the exchange. People were saying it was one way…like you had no choice" she explained, clearly aghast at what she did not know about the healthcare exchange. She just kept saying how scared she had been about the process, about how people were making it sound like she would not get the coverage she needed.
I nodded my head. I've seen the news and the Facebook posts. I can remember how she feels, what it is like to need the coverage you don't have. Before I was able to get coverage with my employer my husband and I went thousands into debt when he dislocated his shoulder, a debt we just paid off recently after several years. I looked her in the eye and told her that she needed to get covered before the December 23rd deadline. We talked about how she can make that happen, about how empowered she feels after learning about the exchanges, and her options.
"Girl" she said in true Shari style "Momma is gonna get the Mercedes benz of healthcare to take care of this heart" she laughed. I laughed along with her and for more times than I can remember I again say a heartfelt thank you for the Affordable Care Act.
My friend Shari was one of three people at the party who were uninsured. One of the guests had already gained insurance coverage through the exchange. Everyone at the party knew someone who needed healthcare coverage or better health care options. Everyone had a stake in the conversation.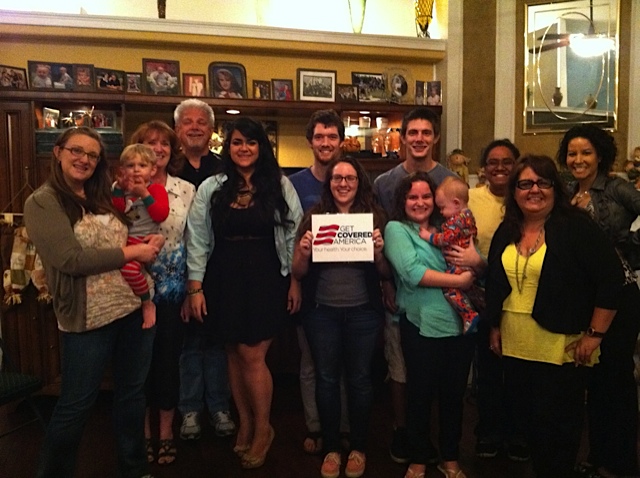 Personally, I am all in on this because I have seen first hand the savings and quality of care that it affords people. When I had my second child this past February, my prenatal visits were covered—a fee of $40 that I paid while pregnant with my first child only 20 months earlier—and it saved my family thousands. Then, the exchanges opened and I saw people I knew—a woman at work, my hairdresser—get coverage for the first time in years. Both my siblings still need coverage. They have become my next mission!
The webinar we screened at the event reminded me of something I knew intrinsically: family and friends listen to women about their healthcare decisions. We are the trusted go-to members for information in our communities. As moms, we need to use this trust to make sure we are helping our families get the healthcare they need and the truth is "69% of uninsured people don't know about healthcare options but they want to." We—that's right us—are the people they need to hear from because when we tell them about the exchange, when we ask them "how are you?" they know we have their best interest at heart.
So, ask.
Ask your friends, co-workers, neighbors, and family over. Volunteer to host your own party (it was so easy, just a Facebook event and a couple of snacks in my living room). Ask, really ask "how are you doing?" "What are you healthcare needs?" And, don't be surprised when you get some unexpected answers.