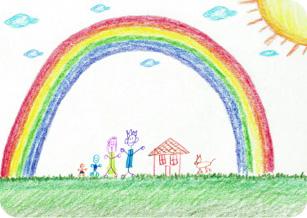 Housing Discrimination Against Mothers is Illegal and Unacceptable: Know Your Rights!
"I can't even count the number of times [when trying to rent an apartment] that I was hung up on as soon as I mentioned we had a toddler."  Christina, New York
"My husband and I were denied a home loan last year due to my being on maternity leave. It was a tremendously frustrating experience, as I was employed and on a federally protected leave; though was told that in the eyes of the lender, I was unemployed."  Olivia, California
Discrimination against mothers in our nation is disturbingly common.  We regularly see it in hiring and wages, but discrimination is also prevalent when mothers apply for a home loan or to try to rent an apartment. 
No need is more basic than the need to shelter our families, and housing discrimination against mothers is illegal and unacceptable. 
Family status discrimination is illegal under the federal Fair Housing Act and the U.S. Department of Housing and Urban Development (HUD) is working vigorously to end discrimination against mothers and families.
WHAT IS ILLEGAL, WHAT ARE YOUR RIGHTS?
Housing discrimination against mothers can take many forms.  But unfortunately when mothers try to get a home loan or rent an apartment they often aren't aware of their rights.
In order to clarify what is an illegal act of discrimination, MomsRising worked with HUD to develop an overview of mothers' rights when seeking to rent or buy a house. 
It's illegal for a bank or mortgage company to deny a mother a home loan, to delay her loan, or to require a co-signer for the following reasons:
You are pregnant or planning to become pregnant
You are a single mom
You are on maternity leave or are on short-term disability leave
You or a family member is a person of color
It's illegal for a landlord to refuse to rent to a mother for the following reasons: 
You are pregnant or planning to become pregnant
You are a single mom
You have a baby, child or teenagers (Or you have "too many children.")
You have a disabled or special needs child
You or a family member is a person of color
The apartment has lead-based paint (Landlords are responsible for lead abatement before an apartment is put up for rent.)
WHAT YOU CAN DO IF YOU THINK YOU HAVE BEEN DISCRIMINATED AGAINST
If you feel you have been discriminated against in anything related to housing, you can contact HUD for assistance: call 800-669-9777 or go to their web site.   
You can also contact the National Fair Housing Alliance.
Click here to see the the book that MomsRising presented to HUD Assistant Secretary Trasviña in August 2011 that includes some of  housing discrimination stories MomsRising members shared, as well as the signatures of more than 14,000 MomsRising members thanking HUD for its efforts to end housing discrimination.
Please help spread the word.  We want every mother (and fathers, grandparents and guardians) to know their rights when it comes to finding a home for their families.  Share this information on FB or Twitter, or you can email this web page to your friends.
HELP OTHER MOTHERS KNOW THEIR HOUSING RIGHTS !