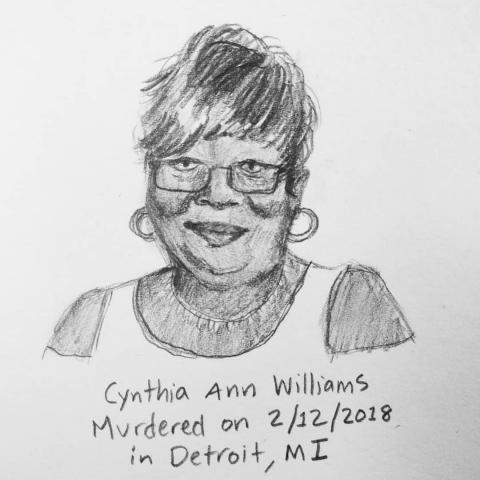 Honor people lost to gun violence by seeing them and taking action
Today students around the nation walked out of class for 17 minutes to commemorate the lives of those killed in the Marjory Stoneman Douglas High School in Parkland, Florida. It is the one-month anniversary of their deaths, and participants are shining a spotlight on Congress' failure to act to curb gun violence.
The grimly recurrent waste of life to gun violence has called forth grief, rage, despair and determination. It is hard to know what to do, after so many lives have been lost. "Never again" rings hollow, when gunfire claims the lives of people every day, in homes, on streets, in crowds, in schools. A group of artists wanted to focus on the human beings lost to gun violence. They have created a gallery of portraits, not just from Parkland, but women killed by abusive partners, bystanders to street violence, churchgoers, and children and youth from Columbine to Sandy Hook and on…and on. You can find the full gallery here: https://www.instagram.com/massshootingvictimportraits/
Full disclosure: my daughter, Lauren Weinstein, is an artist who's playing a big role in assembling this gallery of portraits. I'm proud of her, and moved by all the artists' powerful impulse to help us see these individual human beings whose lives should not have been cut short. They are hoping that if we really look at them, we will find a way to reduce the loss of life. (Lauren also did this piece about Parkland students speaking in New Jersey, published in The Nib.)
Two portraits to look at, out of many:
Melissa Mendes (@melmmmendes) is the artist. The story she recounts: "On February 12, 2018, Cynthia Ann Williams was held hostage and murdered by her boyfriend. Her mother, Barbara Ann Williams, and her aunt, Patricia Wilson, were shot and killed as well, while trying to protect Cynthia." Everytown for Gun Safety looked at mass shootings in the U.S. from 2009 – 2016 and found that more than half were committed by intimate partners or family.
And this is Alex Schachter, one of the Marjory Stoneman Douglas student victims as portrayed by artist Sophie Franz (@baloneyfeathers).
To me, both faces convey human warmth, generosity of spirit, and possibility – people I'd like to connect to, but can't.
Will the loss of these lives finally prompt the sustained political action that will break the paralysis of elected officials? If the outpouring of students, their voting parents, artists, and the rest of us translates into messages actually conveyed to those state and federal officials, well, maybe.