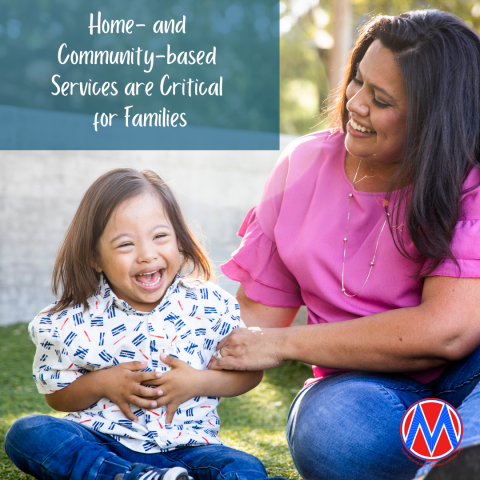 Home- and Community-based Services are Critical for Families
As parents, we all want our children to grow up as healthy as possible and find their place in the world. We want our babies to thrive as they become children, teenagers, and eventually adults, and to be wholly included in our communities. But for many families who have kids and adults with disabilities, or aging family members, this shared hope can be a monumental struggle without the right kind of support and services.
That's why we need Congress to take action to improve our long-term care system to enable kids and people with disabilities, as well as older adults, to stay at home and thrive in their communities.
Below, we highlight stories from our MomsRising members across the country who wrote to us about the importance of home- and communit-based services.
Jena in Lewisville, NC
We have adopted 5 children with special needs from foster care. Without HCBS our children would be institutionalized, no other option. We have an extremely hard time finding staff though due to the poor reimbursement rates from Medicaid for these services. CNAs & RNs can make much better money in hospitals or at McDonalds to be honest.
Marie in Clinton Township, MI
I am a retired nurse taking care of my disabled adult daughter. She is diabetic on the autism spectrum and has schizoaffective disorder. There are weeks where I have 5 or more appointments I try to stack them up. It's very hard. It is a 24 hour a day job.
"H" in Bath, MI
I am a 38 year-old, multiply-disabled, chronically ill mother of three disabled children with complex healthcare needs. My husband, our children's father, who is also disabled (and a college graduate- summa cum laude), struggles to obtain and keep employment in a workforce that does not adhere to the ADA, under-employs, and underpays disabled people.
Without my monthly SSI payments, without our children's monthly SSI payments, without Medicaid-funded healthcare services, we literally could not survive. We do not even have the privilege of having friends or extended family to assist in the execution of our care, or just for moral support, due to circumstances out of our control, so, community-based services fill in those interpersonal gaps, and keeps me, a disabled mother in need of home health care, together with my children. Community-based services enrich my children's education, and helps to bring them into community. Community-based services keep my family together.
I entrust you with my family's needs as a disabled mother. I have lived experience with eugenics and systemic discrimination of disabled people in this society that tends to not view or treat us as human beings worthy of good lives. I am writing to you right now, from my bed (the primary location of my advocacy and activism), to advocate for the needs, safety, and survival of my three disabled children, myself, and my spouse. Please, champion for our rights-- champion the rights of disabled children, the rights of disabled parents, the rights of disabled adults, the rights of disabled families, and seniors, to health care and for careers that are well-paid, and for care infrastructure in general.