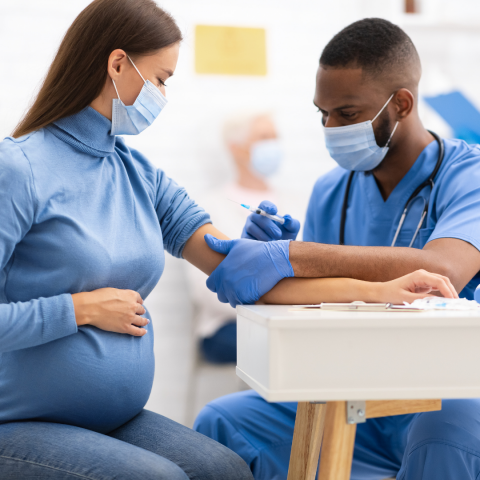 Holding Gratitude and Grief
By: Leilah Zahedi-Spung, MD
"Please don't let me die. Please save my baby." She was gasping between labored breaths on the operating room table, squeezing my hand, and begging me to save her life as we prepared to emergently intubate and deliver her. She had COVID-19 and had rapidly worsened overnight. So now we were moving forward with a preterm delivery to optimize her care and prevent further harm. While I comforted her and told her that we were all there to care for her and would do our best, I was filled with dread myself. Under the gown, two pairs of gloves, one surgical mask, one N95 mask, and a face shield was my very own pregnancy bump.
I was 24 weeks pregnant and terrified we wouldn't be able to save her and equally as terrified that I would get infected. I didn't want to take deep breaths and was sweating through my scrubs. I had the urge to constantly check the seal on my mask, which I fought to avoid touching. This was prior to vaccinations so we relied solely on our personal protective equipment to do just that, protect. We had been dealing with COVID-19 for nine months at this point but were experiencing a particularly harsh surge in our area. We knew that pregnant people were at a significantly increased risk of severe complications from COVID-19 and had watched many of them fight so hard for their lives.
Thankfully both mother and baby survived thanks to the amazing team who saved their lives that night. Her pleas are seared into my memory because her fear was my fear. The fear of getting sick and needing to be hospitalized, alone. The fear of leaving my toddler and husband at home while hospitalized. The fear of not being able to say goodbye. The fear of leaving my husband to make unthinkable choices about my health and the health of our unborn. The fear of never meeting him. The fear of bringing the deadly virus home to my husband, toddler, parents, or in-laws.
While most physicians have plans about how they'd like to die, I truly believe that many of us considered what that would actually look like more often than we'd like to admit during the pandemic. I made contingency plans with my friends in medicine to help guide my non-medical husband through the process if I were critically ill. Plans that included when to favor my life over our unborn and when to favor his over mine. Most of which, I never discussed with him because I didn't want him to share my same fears.  
Before I went home from that shift, I took a shower like had been customary in order to wash off any remnants of the day and hopefully avoid exposing my family. I double sanitized my watch, badges, and glasses. I kept bleach wipes in my car to wipe down door handles and my steering wheel. I called my husband and we discussed whether I should stay in a hotel for the next few days and wait out if I would start showing symptoms. Ultimately, we decided I should come home, like all the times before, because I knew I couldn't do my job if I couldn't hug my family. I left my shoes outside the house and promptly put my clothes in the washer. This was my ritual. The ritual that I hoped would keep us safe. The ritual that gave me a sense of security. The ritual that would allow me to sleep.
I woke up after several hours and was greeted with a message about the status of our patients from overnight, all good news. It was a job well-done. I was grateful for the work we did but grieved for my patient who would remember her birth experience filled with fear.
Then in December of 2020, Pfizer reported results of a vaccine trial showing more than 90% coverage and safety. Finally, light at the end of the tunnel. Surely this would mean the pandemic would come to a screeching end. My medical colleagues celebrated our time slots for vaccination, and I was so grateful for science that would not only protect me but my still growing son, too. Relief washed over me for the first time in almost 12 months. Then came the barrage of misinformation and vaccine hesitancy and the pandemic continued to rage. Grief returned as I mourned the idea that this could've been over.
Fast forward to today and we are battling a pandemic with more infectious and deadly variants due to the lack of vaccine uptake. Pregnant people continue to die needless deaths, children are orphaned, and to make matters worse, children are now dying. I plead daily with pregnant and postpartum patients to get vaccinated and protect themselves. Science continues to amaze us though as we now have approval for children to be protected by the vaccine. So, I continue to hold grief and gratitude as we continue walking through this pandemic and hope for an end.
To learn more about COVID-19 vaccination before, during, or after pregnancy, visit the Society for Maternal-Fetal Medicine's website: HighRiskPregnancyInfo.org.