Take Action!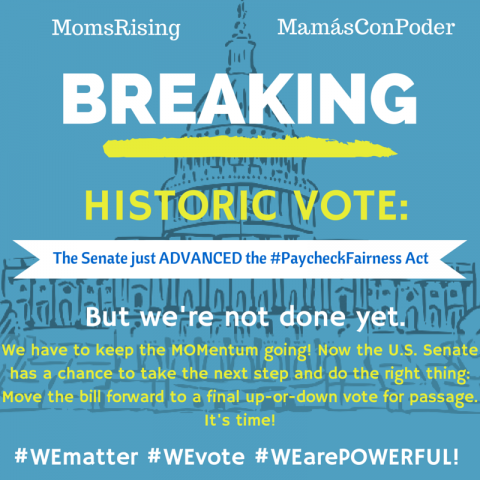 Historic: US Senate Just Advanced Paycheck Fairness Act
BREAKING! Due in no small part to your efforts, letters, calls, stories, and testimony, the U.S. Senate just advanced the Paycheck Fairness Act in a historic vote. But the bill isn't fully passed yet.  
Now we have to keep the MOMentum going. The U.S. Senate has a chance to take the next step and do the right thing: Move the bill forward to a final up-or-down vote for passage.  It's time! 
And the conversation on social media in support of passage is heating up! Read more at these hashtags: 
This vote is a big step, and part of a long journey the MomsRising movement has been on with many other organizations and individuals. Here's a link to contribute to MomsRising.org's campaign for equal pay to keep the momentum going-- because together, we're making progress! 
https://action.momsrising.org/donate/fair_pay/
Thank you!