TAKE ACTION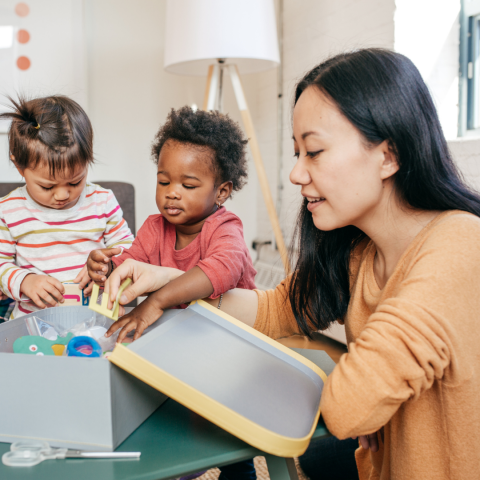 Hey Congress, who's going to take care of all these kids?
Do you remember show and tell? You know, where you would bring something you liked or an object you found interesting to show to classmates, friends and teachers. Well, right now it's time to SHOW and TELL Congress that too many of us have been taking care of kids during this pandemic and before with NO support and we need help, stat!
Tell U.S. Senators: Invest in affordable, high-quality child care and Pre-K for our families through reconciliation!
What families around the country (just like you!) have been showing to Congress for years is that our child care system is broken, a fact and lived reality that only became much worse as a result of over two years of a global pandemic. 
So what can Congress do about it? Plenty! Right now our U.S Senators are considering a child care proposal, led by Senators Patty Murray of Washington State and Tim Kaine of Virginia, that would help over 1 million new kids and families find and afford child care, as well as help childcare workers. This is very good news!
Their plan would:
Triple the existing Child Care and Development Block Grant (CCDBG - the current grant program to states for child care) to increase child care funds to all states; 
Provide grants to all states to expand child care supply, improve facilities, and raise compensation for early childhood educators;
Invests in establishing and expanding High-Quality Preschool Grants; and
Invests in raising wages for early educators. 
Now, our Senate must pass Senator Murray and Kaine's new child care proposal that would help over 1 million new kids and families find and afford child care!
Why? Because right now, nearly half a million families are estimated to be stranded without reliable child care, exacerbating the nation's worker shortage as parents continue to stay home and pre-pandemic, more than 1/2 of families lived in child care deserts without safe, nurturing, affordable options to begin with! [1]
And we've heard from MomsRising members over and over again tearfully sharing their stories of being forced out of the workplace, child care centers closing due to staffing shortages and low wages, and carrying the weight of our nation's economy and pandemic challenges on their backs with no help. The truth is, women and moms, especially women and moms of color, have taken the most responsibility for caring for our kids, our sick family members, our aging relatives and neighbors, and supporting the people in our lives with disabilities; all while sacrificing their own careers and wellbeing in the process. 
How much longer can we say enough is enough? How much more of a struggle do our families need to demonstrate for our Senators to take the action we need?
U.S. Senators MUST move forward on child care and preschool so parents can work, children can thrive, and care workers can earn a living wage!
This new child care proposal will save families thousands of dollars on child care each year, expand their options, & raise wages for child care workers. Our families have been overdue for critical child care supports and this is definitely a step in the right direction that can address this ongoing crisis.
Please join us to keep taking action, sharing your stories and bringing others with you in the fight to make child care and pre-k a reality for all of our families!