HERvotes Blog Carnival: What Health Care Reform Means to Women
For the tenth #HERvotesblog carnival, we're celebrating the second anniversary of the new health-reform law, the Affordable Care Act, or ACA.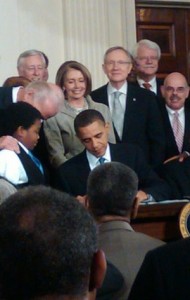 Photo of Barack Obama signing the Affordable Care Act on March 23, 2010, from Wikimedia Commons.
Why are women so excited about the ACA? Well, for a start, the law has already started removing barriers to health care and improving services for millions of women and our families, helping us access the care we need to stay healthy.
This week's #HERvotes blog carnival is going to raise women's voices all across the country. We will tell our stories of how the Affordable Care Act has helped us, what is still wrong with our health care system and what we're doing to make a difference. We will express our anger about the insurance company abuses–such as charging us more than men for our health insurance–that will continue until the ACA is fully implemented. And perhaps most importantly, we'll share why this important advance for women should be upheld by the Supreme Court when it takes up the Affordable Care Act next week.
Please join us in lifting our voices–because we all have something to gain from the Affordable Care Act.
You can participate by telling your own story and by sharing the posts below on Facebook, Twitter (using the hashtag #HERvotes) and other social media.
#HERvotes, a multi-organization campaign launched in August 2011, advocates women using our voices and votes to stop the attacks on the women's movement's major advances, many of which are at risk in the next election.
Read more:
The Affordable Care Act Turns 2 – No Baby Step for Women- Gloria Lau, YWCA USA
Why It's Time for Women's Rights- Sophia Yen and Ellen Shaffer
20 Million Women and Counting …Two Years of the Affordable Care Act- Jacqueline M., Planned Parenthood Action Fund
Thank you, ACA: Protecting Our Country's Well-being by Protecting Students-  Andrea Alajbegovic, National Women's Law Center
New Options for Those with Chronic Illness-  Dania Palanker, National Women's Law Center
Affordable Care Act: A Necessity for Women's Health- Katharine Nasielski, Religious Action Center for Reform Judaism
How the ACA is Helping My Family-  Sarah Robinson, National Women's Law Center
The Limbo of a College Graduate-  Brittany Papalia, National Women's Law Center
Preventative Care: Protect the Affordable Care Act- Mallen Urso, National Women's Political Caucus
Why I Support the Health Care Law- Amy Cotton, National Council of Jewish Women
Where Would Women be Today without the Landmark Programs that were Enacted Over the Last 45 Years to Protect and Advance Women's Health?- Raising Women's Voices
The Impact of the Affordable Care Act on One Young Woman- Lindsay Yancich, NOW
Why We Need the Affordable Care Act- Julie Seger, AAUW
Healthcare Stories the Supreme Court Needs to Read- Nancy Keenan, NARAL Pro-Choice America
Today's Story on How Health Reform Helps Women- NARAL's Blog for Choice
HERvotes Blog Carnival: Gen Y Women Benefit from the Affordable Health Care Act- Business and Professional Women's Foundation
Celebrating the 2nd Anniversary of the Affordable Care Act!- Kristin Rowe-Finkbeiner, MomsRising
2 Year Anniversary of the Affordable Care Act-What's In It for Young People?- Sarah Audelo, Advocates for Youth
The Affordable Care Act and Women's Health- National Association of Social Workers
Health Reform: Winning for Women- Tara Mancini, WIN's Women's Health Policy Network
Two Years Later, Reflections on the Landmark Health Care Law, Miri Cypers, Jewish Women International