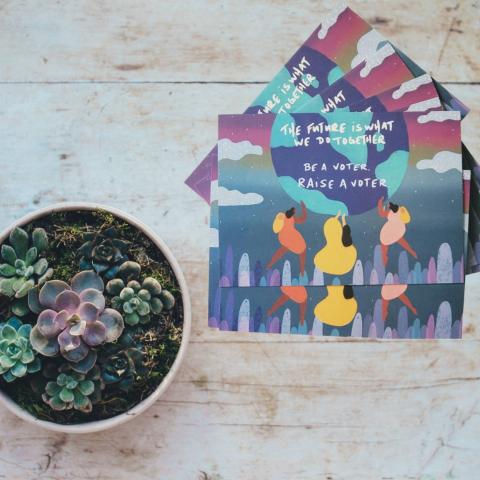 Help Make our 2022 Voting Postcard Program MASSIVE!
This coming election will determine our future. Everything from our civil rights, and healthcare to our family's economic security, education, care infrastructure, and safety is at stake. JOIN US in co-creating the next chapter in women's history— the future that our children deserve and that the women before us would be proud of! 
Please chip in to support MomsRising's Mom-to-Mom Voter Postcards right now.
In our 2020 Postcard Campaign, more than TWO MILLION person-to-person handwritten postcards were deployed as a part of our record-breaking voter mobilization campaign. We shattered expectations, increased voter turnout of low-frequency mom voters and we are ready to DO IT AGAIN! 
This year, we will continue to set big and bold goals. We're ready to take our democracy to the next level and engage every possible voter! To reach our goal of sending millions of handwritten postcards reminding low-frequency mom voters to vote again this year, we need everyone to chip in what they can to support the work. (If you donated to the 2020 postcard campaign, THANK YOU! We are grateful. And if you can help us keep up the MOMentum for this 2022 election, we need you now more than ever!) 
This is a long game and we are rolling up our sleeves and buckling in. Your monthly support will help power us through this next phase of Mom Voter education and engagement…and beyond. 
We are mobilizing everywhere and at every level! In addition to getting millions of moms to the ballot box, we are on-the-ground organizing in local communities; sharing our stories to educate lawmakers and the media; advocating for policy change at city halls, statehouses, and Capitol Hill; and also developing hundreds of local leaders all over the country. We are changing the narratives about what our families and communities need to not only survive, but thrive. Let's make sure this year's midterm elections have the biggest turnout in history. 
As you read this, our team is working diligently to search for and identify low-propensity mom voters-- moms who have voted at some point in their lives, but who will likely need some extra mom-to-mom encouragement now to get their ballots in for the upcoming elections. These are the exact moms who will receive handwritten postcards from MomsRising supporters. This is the work that's powered by your donations. This is the work we need your support for right now!
Please chip in whatever you can today to help get out the vote in November.
In this time of great change and upheaval in our nation, we have the opportunity to connect with each other, to encourage each other, and to make change. Let's do this!
P.S. Interested in joining future postcard campaigns to help get out the vote? We've got you covered! Sign up now to be the first to hear about our future GOTV postcard writing campaigns when they launch! The future is what we do together: https://action.momsrising.org/survey/GOTVpostcards_2022/