Heartland Moms Go to K Street for Showdown
Heartland moms are participating in the Showdown on K Street on May 16 & 17! This is a story of a a fellow mother, woman and female consumer who will make the trip to Washington DC with me to tell Congress to support sound financial policies that work for the people not against them. You can take action on your own and support all mothers who are heading to K Street to fight for financial reform.
Written by Robin Acree, executive director, GRO-Grass Roots Organizing:
As a divorcee,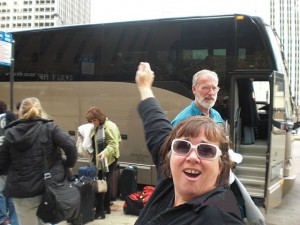 single mom, grandma and female consumer it took me a long time to earn and build my own credit history. When I bought my Section 8 house in Mexico, Missouri, without a co-signer and when my daughter went off to college with no help from her father, I felt a real sense of satisfaction that I did have power and stability in my life again. With my friends and family's support I was able to take responsibility and fix the financial mess I found myself in and eventually recovered.
Corporate America and Big Banks caused the economic crisis so many of us are in. Yet my A+ credit rating is now threatened with a 29.9% APR for one credit card payment that arrived late. Several of my family members and friends are now living under one roof to stay afloat and have fallen victim to payday loans. And, local businesses are closing and what little industry is left are laying workers off.
GRO-Grass Roots Organizing, Sunflower Community Action and Iowa Citizens for Community Improvement are all part of the National People's Action network wanting to create a new economy. Together we held a Showdown in the Heartland last month in downtown Kansas City. There is where we called out Bank of America's poor performance and next round of bonuses checks for their shareholders. We also took over the corporate headquarters of QC Holdings, who is the biggest pay day loan operation in Missouri and financed by none other than Bank of America.
Now mothers and grandmothers like me, from the Heartland, are headed to the National People's Action Showdown on K Street May 16-17!  Congress is supposed to be our watchdog—not the fat cats' representatives! At the Showdown, we'll demand the corporate thieves begin to pay us back, ensure voices from real people are heard and the promise democracy holds is finally realized. The question to our lawmakers is whose side are you on? Will you side with the people struggling to put America back to work and keep our families safe or the greedy corporations and big banks continuing to yield record profits and commit their careless acts?
Enough is enough! Big banks and Wall Street must take responsibility for the devastation they've caused. They need to fix it and make substantial investments in our families, workers and our communities. I'll be traveling on an airplane with a dozen other mothers who held local fundraisers to show-up at the Showdown in DC this weekend. We'll be joining hundreds more to demand Congress and the Administration pass a strong version of the Wall Street Reform Act (S. 3217) that outlaws predatory lending practices, keeps the bankers from gambling with our money and creates a consumer bureau. And, we'll tell our elected officials they must create jobs (HR 4812) and pass meaningful immigration reform now!
Hear our voices!  Moms will remind them on Capitol Hill that our government is not for sale!  Real recovery will happen when the people rule our democracy—not big money special interests! To learn more about the Showdown on K Street, click here.