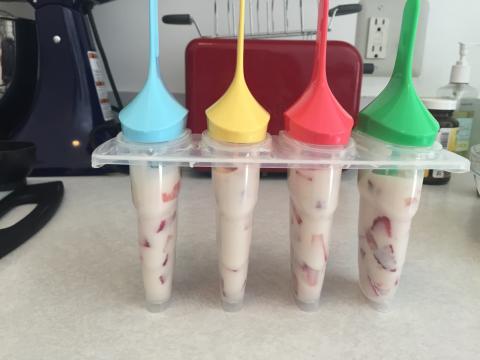 Healthy Yogurt-Fruit Popsicles
It is starting to get warmer out and that can only mean one thing….summer is coming! And with summer comes heat and with heat comes the need for some frozen treats. There are a lot of options for a healthy way to cool down our kiddies and not give them needless amounts of sugar.
This yogurt fruit popsicles recipe is totally adaptable. You can choose pretty much any fruit (I made mine with strawberries, but blueberries, blackberries, peaches etc would all be delicious), and even switch up the flavor of the yogurt if you want (just make sure to check the label for added sugar and unnecessary chemicals and ingredients). And buying popsicle molds are pretty cheap. I used these.
Ingredients:
1 cup yogurt
1 cup sliced fruit (strawberries, blueberries, peaches, pitted cherries etc.)
1 tablespoon honey
Combine the yogurt, fruit and honey in a bowl and mix everything together.
Using a spoon, fill the popsicle molds so they are about ¾ full (make sure not to over fill otherwise the yogurt will squirt out when you out the tops on). Add the tops with sticks and place in freezer for at least 3 hours.
To remove: run warm water over the bottom of the popsicle molds and gently pull out the popsicles. Enjoy!

 
Yields 4 popsicles
There are lots of fun and healthy recipes for popsicles. Check out these as well:
Watermelon and Coconut Popsicles
Blackberry, Yogurt, and Honey Popsicles