Recipe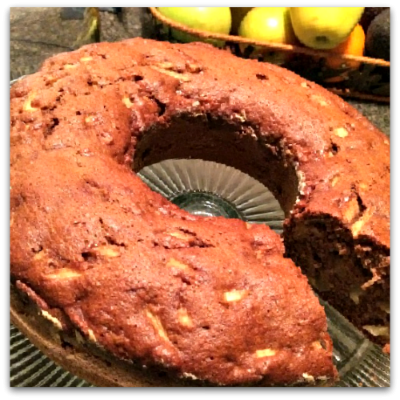 Healthy German Apple Cake Recipe
Kids crave sweets all the time especially in the winter. But in all honesty, in my house, the adults crave it just as much as the kids. As the days get shorter, and colder, our natural instincts kick in: eat more carbs and pack on more fat so you can survive the long cold winter (there are actually studies showing we crave more carbohydrates in the winter). Unfortunately, our genetic makeup has not yet caught up with the fact that the grocery store around the corner will have all the food we could possibly need and much more all winter long.
The sweet cravings do not get any better while watching TV or after listening to coworkers explain in great detail how wonderfully gooey their double fudge chocolate chip cookie tasted. And, having the kids beg for more marshmellows in their hot chocolate... well, that just increases the sweet cravings! 
What can you do when the sweet cravings come on?
Bake this delicious healthy German Apple Cake!
My trick: Substitute two bananas for half the oil and sugar most recipes call for! The substitution lowers the calories and produces a cake that is just as moist and flavorful as you would expect any German Cake to be.
Enjoy!
Healthy German Apple Cake
Ingredients:
2 eggs
½ cup vegetable oil
1 cup brown suga
2 mashed bananas
1 teaspoon vanilla extract
½ teaspoon salt
1 cup unbleached flour
1 cup whole wheat flour
1 teaspoon baking soda
2 teaspoons ground cinnamon
¼ teaspoon ginger
¼ teaspoon nutmeg
4 cups of chopped peeled apples
Instructions:
Preheat oven to 350 degrees and grease cake pan.
In a large mixing bowl beat eggs, vegetable oil, brown sugar, mashed bananas and vanilla extract for 1 minute.
In a medium sized bowl combine salt, unbleached flours, whole wheat flour, baking soda, cinnamon, ginger and nutmeg until spices and baking soda are dispersed evenly.
Add flour mixture to egg mixture and stir together then fold in chopped apples.
Pour cake batter into cake pan and bake for 45 minutes.  Remove cake from pan and let it cool on a wired cooling wrack for 1 hour before serving.