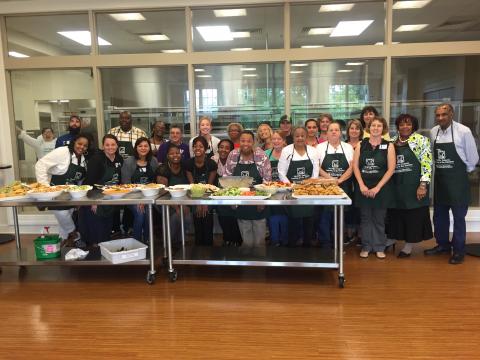 Healthy Futures Starting in the Kitchen: Child Care Center Cooks as Agents of Change
On May 6th I had a humbling experience involving vegetables, knives, and a group of child care center cooks from across North Carolina. This group of child care center cooks and I came together for a "Healthy Futures Starting in the Kitchen" program offered by the culinary school at Central Piedmont Community College to child care center cooks. Some cooks traveled up to five hours each way to attend the training; one braved the trip despite needing to stop along the way and ask for help to program the GPS given to her by the child care center. The cooks ranged in age from 19 to 70 years old, and all were determined to learn new ways to serve healthy food to the children in their care. 
This day-long training was sponsored by the North Carolina Partnership for Children (NCPC) /Smart Start's obesity prevention initiative, Shape NC. Shape NC: Healthy Starts for Young Children is a six-year, $6 million initiative of Blue Cross and Blue Shield of North Carolina (BCBSNC) Foundation and NCPC created to increase the number of children starting kindergarten at a healthy weight and ready to learn. 
Shape NC assists communities across the state to promote healthy eating and active play among North Carolina's youngest children, from birth through age five. The initiative works with child care programs to instill healthy behaviors early on, creating a solid foundation for a healthy life. 
Child care center cooks can play a big role in promoting healthy eating habits among children. However, many of these cooks are more accustomed to using a can opener than a knife, and often are not provided with opportunities to learn how to cook with fresh vegetables. That's where "Healthy Futures Starting in the Kitchen" comes in. This training focuses on knife skills, healthy cooking techniques, how to add fruits and vegetables to snacks, how to use produce from the garden, and how to complete a kitchen inventory. What was so powerful about this training is that, not only did the cooks create healthy and delicious foods, but then we all came together to enjoy the food as a group. 
In their feedback about the training, participants shared:
"I learned that healthy food can be so good!"
"Everything is better with a little color."

"The first change I'm going to make is to replace canned with fresh food."
After the training, each participant committed to making at least one change to their menus; the Shape NC Technical Assistance staff working with each center will provide follow-up support. These small steps are some of the ones offered by the cooks as their next action step: 
Removing salt and butter content
Using veggies differently 
Meatless Mondays featuring black bean burgers 
Switching from peas to avocados
Adding some of today's recipes
Replacing canned fruit with more fresh fruit
Incorporating hummus and black bean burgers 
This is how change happens. One cook from a child care center in Randolph County shared the following: "I attended the Healthy Futures Starting in the Kitchen training through Shape NC. I just wanted to let you know that the training had a tremendous impact on me and the way I plan menus and cook for the center. Now I cook with olive oil instead of butter, use different seasonings, have eliminated all white flour products, have increased vegetables, make homemade muffins and pizzas, serve meatless meals, etc. This had a great impact on me, changed my attitude, and motivated me to make changes right away." Too often child care center cooks are overlooked as agents of change; however, this training showed me how powerful child care center cooks can be, if given the chance.