Healthy Food from India to the Farmer's Market
I am Mukti Banerjee, a first-generation immigrant-turned-citizen from India.
I decided to start Mukti's Kitchen when a few good friends insisted that I did something to let others know about my Indian cooking and the variety and uniqueness of it. Deep inside, I am a social activist and believe in a better, healthier lifestyle for all and also believe in sustainability potential of well-being.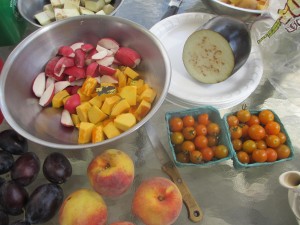 I got involved with Brooklyn Food Coalition, which is a grassroots organization dedicated to the vision of a just and sustainable food system in Brooklyn. I work closely with Nancy Romer, founder of BFC and prepared a healthy, mouthwatering delicious Indian dinner for their big fundraising event. I promote eating organic, local and seasonal foods whenever possible and a diet high in fruits, vegetables, lentils and whole grains. Honestly, I started Mukti's kitchen to promote my delicious foods and a healthy lifestyle.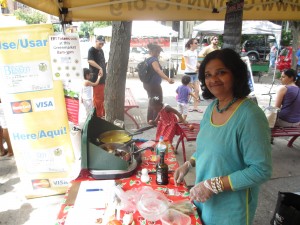 I have done cooking demos at New York's various green markets including Union Square.
I grew up in the city of Calcutta in Bengali, North and East Indian food and cultural traditions. Calcutta is famous for its literature, poetry, art, music and movies. Nobel poet Rabindranath Tagore, Oscar-winning film director Satyajit Ray and Nobel economist Amartya Sen are three of our icons. I am proud of this extraordinarily bright history and heritage. At the same time, I am also a product of the land of India that gave rise to numerous artists, musicians, poets...and yes, famous food artists too -- many of whom have not made the front page of a newspaper. Indian mothers and grandmothers have developed and refined the art of cooking over thousands of years, and I feel I am a direct descendant and heir of their treasures too. When I cook Indian and Bengali food, and when I teach the art of cooking to my students, I feel I am carrying forward the art and the spirituality that my mother, aunts and grandmothers have left with me. I feel blessed to have picked up and mastered their prized craft.
I am opposed to fracking. I am totally against how Monsanto the giant seed company is taking control of the seed in India, using their genetically modified seeds. Now, these poor farmers are committing suicide out of desperation and non-payment of Monsanto-related loans.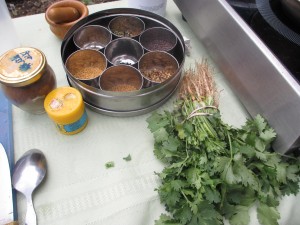 If you are intrigued by the flavors, healthy benefits and healing properties of Indian spices, if you like to learn how to cook healthier and lighter with better flavors, and if you like to cook without the cream and heavy oils that many Indian restaurants use, then come to Mukti's Kitchen cooking classes. I do specialized, custom-made catering too. I have a desire to share my passion of food with people to empower and help to cook for themselves and eat healthy. You can learn from me both vegetarian and non-vegetarian Indian.
Please check my website: www.muktiskitchen.com and www.meetup.com/muktiskitchen .