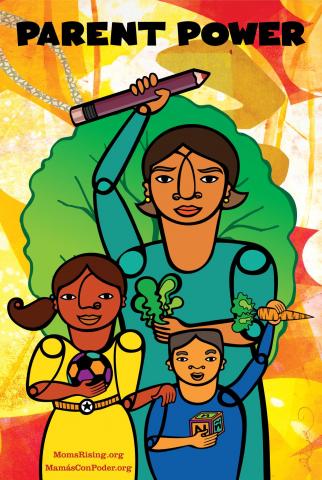 Healthy Food for Kids Isn't a Game: It's the right thing to do!
"Don't play with our kids."
Michelle Obama's statement - in response to US Secretary of Agriculture Sonny Perdue's declaration last year that he will roll back or delay key elements of the healthy school meal standards - pretty much sums it up.
Healthy food for kids isn't a game. It isn't a partisan or a political issue. It's the right thing to do.
Join us in telling USDA Secretary Perdue that moms and parents say NO to rolling back healthy school meals.
It just doesn't add up. The healthy school meal standards have been successful, any way you slice it. Here are the facts on how very well they're working:
Over 99% of schools are already meeting the healthy standards. [1]
Kids like healthier school lunches, and are eating more of them! [2] This includes more fruits and vegetables. [3]
The majority of parents support healthy school meals and snacks, including a reduction in salt. [4] 
Kids are throwing out less food than before the meal standards went into effect. [5]  
Schools have maintained or increased revenues from food sales. [6] 
Yet USDA Secretary Perdue has proposed rolling back or delaying important standards around sodium, whole grains, and low-fat milk. Again, in spite of the fact that almost all schools are already succeeding in meeting those targets. 
Healthy school meals are working. And given the fact that 1:3 kids in the US is at risk for nutrition-related diseases, and more than 30 million children eat school meals every day, healthy meals are an important way to build healthy communities. [7]
So why is USDA Secretary Perdue so eager to roll them back? Does he just not like kids? 
Join us to tell the USDA that moms won't stand for it!
Here's what's happening. The USDA has just issued an Interim Final Rule outlining plans to attack three key provisions of the school meal standards including:
Reducing sodium. USDA has proposed delaying reduction of sodium in school meals another three years. Salt is a BIG problem for our kids, and a key ingredient in processed foods. The reality is that many schools, food service companies, and others in industry are working toward or already providing healthy and appealing meals and products with less sodium. So why weaken the standard now? 
Whole grains. The Rule allows schools to continue to request waivers for meeting the whole-grain standards. Eating more whole grains is associated with reduced risk of heart disease, stroke, and diabetes, provides more nutrients, and are a healthful source of fiber. Children, on average, consume too few whole grains and too many refined grains.
Allowing flavored low-fat (1 percent) milk for school meals and as a competitive food. The current standards that allow plain or flavored fat-free milk and plain low-fat milk are based on expert recommendations from the National Academy of Medicine's 2009 report. The recommendations disallowed flavored low-fat milk because it would provide more calories and likely exceed the calorie maximum for school meals.
We have until January 29 to push back!
Join us to tell Secretary Perdue cutting healthy school meals doesn't add up.
I'm no math wizard, but 2+2 does not equal an elephant. It's pretty simple, really. Science and - let's be real - common sense confirm that healthy food matters. Kids spend the majority of waking hours in school. Healthy food help children stay alert and perform better in school. The healthy meal standards are working, kids are eating better, and we're seeing progress. So why roll back the standards now? 
Perhaps USDA Secretary thinks parents aren't watching. Or that we don't care. Or that we also think the health of our kids doesn't matter. Or maybe he's playing politics with our kids health. 
The Healthy Hunger-Free Kids Act of 2010 ushered in a wave of positive changes for our kids, including the first healthy updates to school meals and snacks in over 30 years. [8]
Hundreds of thousands of us spoke out in support of the new meal and snack standards. Our voices and support played a big role in getting the new standards in place, and in making them a success. We must continue to celebrate and defend this progress. Because prioritizing politics over our kids' health doesn't add up, and parents won't stand for it. 
Thank you for all you do!