Health Reform - What's in it for Small Business Owners?
Small business owners around the country are grappling with the same question: What will health reform mean for me and my employees?   Opportunities and confusion abounds.
To demystify the opportunities and obligations under the Affordable Care Act this year and beyond, MomsRising is teaming up with the Small Business Majority to host a free webinar specifically for small business owners.
Join us next Monday, March 18th from 2:00-3:00 EDT!   Click here to learn more & RSVP:  http://moms.ly/12Q9fXQ
During this info-packed webinar, we'll cover some of the following topics (and more!):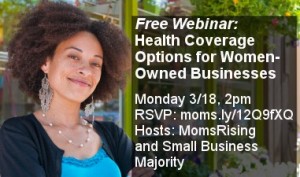 Small business tax credits available to businesses and tax-exempt non-profits
New coverage options for small business owners and non-profits
Tools and resources available for small businesses
There will be a Q&A session to address your specific questions too!
You've got enough on your plate. Let us help you figure this one out.
RSVP today! http://moms.ly/12Q9fXQ
** Please share this invitation widely with your local and national business organizations, listservs and anyone you think might be interested.