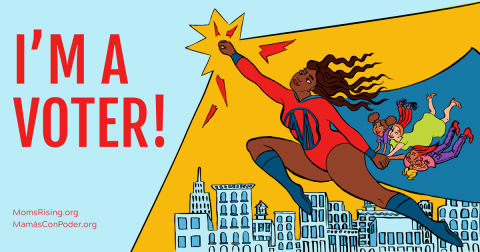 Have you voted? Let us know!
Happy Election Day! The power is in our hands. We are making THIS MIDTERM ELECTION have the biggest turnout EVER! From affordable healthcare and childcare, to equal pay and paid family leave, whatever your issue, we hope you will be — or have been — a voter on November 6th.
*Can you take a quick second in this busy moment for one click to help create the biggest midterm election turnout ever? Click below to share if you've voted or will be voting soon!
Why click now? Letting us know if you've already voted — or if you'll be voting soon — will help inspire other voters to make a plan to vote today, Tuesday, November 6th. Research shows that seeing other people vote, or seeing that they'll be voting, helps increase the number of voters! It turns out that voting is catching!
Plus, after you click, in addition to inspiring others to vote, we'll show you a fun real-time chart that shows how much of the MomsRising/MamásConPoder community has already voted. Your one click helps us plan our GOTV program and get moms and people who love them to the polls!!!
Here are the power buttons again for you to click:
And, we have fun, important voting information:
Bringing kids to vote is fun! You can be a voter and raise a voter at the same time. Take a picture when you vote with a child, and post it on social media with #MomsVote. For extra fun, you can have your child draw a "We Voted!" sign for your family. Or pick your family voting song that you all listen to right before you all go to vote.
Also, be sure you have a plan to vote so you can fit it in your schedule tomorrow. Your polling place is here.
Problems voting? Call 1-866-OUR-VOTE.
Are you making history with us? Have you voted? Are you voting? Click a button! Help amp up the vote!
By voting, we can make the future OURS. Be a voter, raise a voter.
Together, let's be voters and own our own future.
P.S. Are you unable to exercise your right to vote? Please share your story by e-mailing momsvote@momsrising.org.