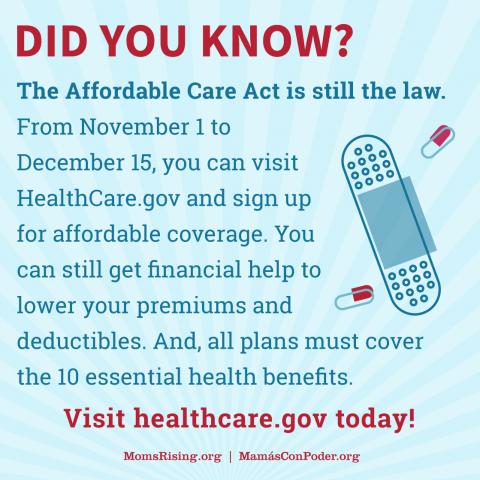 Have Questions About Open Enrollment? We have answers!
It's November, and you know what that means…
Open Enrollment!
This year, Open Enrollment is shorter than ever (November 1st to December 15th), so we want to make sure all of your questions are answered. Last week MomsRising hosted a #WellnessWed tweetchat about Open Enrollment and our guests included Young Invincibles, Out2Enroll, and Get America Covered. If you were unable to join the tweetchat, no worries! Below is a recap of the tweetchat and all the important questions covered.
Q1: What is Open Enrollment, and what does it mean for me if I'm uninsured?
Open Enrollment is the time when you can purchase 2018 health insurance through the health insurance marketplace at healthcare.gov. Open Enrollment lasts from November 1st to December 15th in most states (some states with state-run marketplaces have longer enrollment periods). In addition to being the time to purchase insurance, it is also the time for people who currently have health insurance through the marketplace to renew their insurance. Due to many cost changes this year, it is super important to shop around. You might be able to find a cheaper plan that covers more!
Q2: What should I know/do if I'm trying to shop for health care coverage for the first time?
If it's your first time shopping for health care coverage, you are not alone! Visit healthcare.gov and you can search through different plans available to you.
If the thought of picking insurance on your own is overwhelming, there are health insurance navigators all over the country waiting to provide free help to anyone who asks for it! Find a navigator near you by using the Young Invincibles's Get Covered Connector or Out2Enroll's Navigator Search Engine.  
Or, if you're more of a phone person, you can get expert help by dialing 1-800-318-2596.
Q3: If I am already covered through the marketplace, do I need to visit healthcare.gov to stay covered?
You don't have to, but you definitely should! Plans and prices change every year. So it is important to make sure your current plan is still the plan that best fits your health needs and budget. And if it doesn't, you can switch plans!
It's also important to update your income information in order to make sure you are receiving all the financial assistance that you qualify for.
If you don't shop around, you will be auto-enrolled into the same plan for 2018.
Q4: When is the deadline to buy insurance from the marketplace for coverage to start January 1st?
The deadline is December 15th*, but don't wait until the last minute!
*A few states that have their own marketplace have extended the enrollment deadline for their state. View this list to see the enrollment deadline for each state. However, the early bird catches the worm(!), so it's best to purchase your 2018 insurance sooner than later.
Q5: Is there still a fine if I don't sign up for health coverage?
Yes, there is still a fine. If you don't sign up for health insurance, you may have to pay a tax penalty of $695 or more. You may qualify for a fine exemption, which you can find out here, but it is important to remember that a monthly premium is a lot less expensive than an unexpected visit to the hospital!
Q6: Can I find out how much health coverage will cost before I start shopping in the marketplace?
Yes! You can preview plans here.
Q7: How do I know if I'm eligible for health care coverage financial assistance?
Last year, 8 in 10 people qualified for financial assistance. Find out if you qualify for financial assistance by visiting healthcare.gov. Additionally, if you need help, reach out to a health care navigator in person or by phone (see Q2).
Q8: What consumer protections should I be aware of when I've started to use my coverage?
Plans through the marketplace have many protections including free preventative services, caps on your costs for in-network services, and you cannot be denied insurance due to pre-existing conditions. Read more about protections here.
-----
If we've missed any questions, feel free to comment below, and we will do our best to answer. We hope this information has been helpful and inspired you to sign up for health care coverage this Open Enrollment season!
PS - Do you want to help spread the word about Open Enrollment? Sign up to be an #ACAdefender, and we will provide you with the tools needed to help spread the word!