Have Moms Forgotten About Newtown?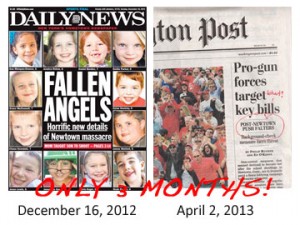 Just three short months after the tragic shooting deaths of 20 first graders at Sandy Hook Elementary School... Just weeks after a Chicago infant was killed in cross fire... And just days after President Obama made an impassioned plea to the American people to "remember how we felt 100 days ago, and make sure that what we said at that time wasn't just a bunch of platitudes, that we meant it"... I woke up to this front-page Washington Post headline:
"Gun measures may be in jeopardy in Congress – Post-Newtown push falters." (Online headline)
What?! When I look at my kids and think about those first graders, I definitely haven't forgotten Sandy Hook, and I definitely haven't faltered.
Have you?
According to the Washington Post article, Capitol Hill is losing momentum to push through meaningful gun safety reform. Just as NRA lobbyists are intensifying their push to inject language into the proposed bills that would water them down to uselessness, lawmakers need to be reminded that 90% of Americans support common-sense measures like universal background checks on gun sales. Why? Because if lawmakers think that public interest is fading, they lose their resolve to stand up for stronger gun laws.
The perception of declining public interest is particularly damaging at this critical moment as Senators prepare to begin debating gun policy next week. Moms need to make sure they keep their resolve as the Senate moves to a vote. If Senators sense that we're not paying attention… if they believe that moms have moved on… then they will begin to think that heeding the gun lobby is the path of least resistance.
And as we know, the gun lobby's position is more guns for everyone without background checks.
We just can't let that happen. Our elected officials need to put the interests of moms and families over those of the gun lobby.
How can moms let the Senate know that we are still demanding common-sense solutions to reduce gun violence? We can take a little time between April 10 to 19 to stop by at least one of our US Senators' local district offices and deliver stories from MomsRising members that illustrate how our families and communities can no longer tolerate the devastating toll of gun violence.
*You can sign up for this important action here:  http://action.momsrising.org/go/2914?t=6&akid=4123.1976766.EwwEIs
After you sign up, MomsRising will make sure you get  all the information you need to do this, including an easy way to find the closest office to your home and the materials to deliver.
Stopping by your Senator's office to hand-deliver these stories makes a huge difference. The staff knows that every in-state visitor represents many more state voters who couldn't be there in-person, so they keep careful track of such visits. By showing up in person to deliver stories of real people affected by gun violence, you are sending your Senator a clear message that families are counting on them to do what is right.
Showing up at your Senator's office is easy! MomsRising will provide you a way to find the closest office to your home and all the materials you need, including a sample script of what to say when you get there. In fact, it's so easy we hope you'll consider visiting the state offices of BOTH of your Senators!
Sign up now to show your face to your Senator's staff and let them know moms have not forgotten about gun violence and that we still expect common-sense solutions to reduce it:
Click HERE to sign up: http://action.momsrising.org/go/2914?t=8&akid=4123.1976766.EwwEIs
When moms and family members work together, we can move lawmakers to put family and community safety first. Together, we are a powerful voice for safe families and safe communities.