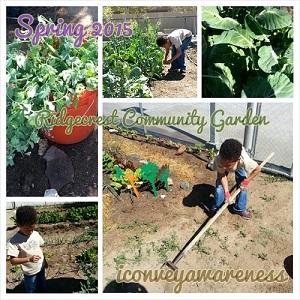 Grow Healthy Families With a Veggieful Garden!
"Everyone has a starting point; the point is… get started!" ~ Jessica David
My mom has a dark green thumb. She has always grown with much success house plants and over the last several years she has had an abundant garden. Years ago she used to gift me hard-to-kill green plants but trust me, they died. I watered them. I talked to them. I don't know – I just couldn't grow anything!
Fast forward to almost present day and I killed lavender in a hanging basket. That's too bad because I really love its scent. Do you see the pattern here? But guess what?
Past failures are just that – the past.
If you're like me, you want your family to eat well and enjoy it and maybe, just maybe, learn about where real food comes from. So whatever happened last growing season, maybe my story will encourage you to give it a try again. And, don't give up; your family's health may just depend on your perseverance! 
Just keep trying and if you've never tried, today is the day!
Since May of 2014, I've been learning how to garden as a volunteer at our city's Community Garden. Today, I'm growing (with the help of other volunteers) organic veggies in.the.desert!! This past February, the director of my son's Montessori school asked me to take the lead on their spring garden. I informed them that I'm just starting (just a novice here) but one of the teachers recommended me since I had also taught a lesson on antioxidants to her class the year before.
To my surprise, I learned so much about the children's school garden! I spent about two hours a week for 3 months working with small groups of the students (there were about 100 students in the school) in the garden and maintaining it when they were already in class. At the end of the three months, we had lots of green. I learned that kids, as young as three, really want to know about where real food comes from and that they love touching and feeling and planting and weeding and asking questions and… and… and! We had a small harvest but boy were they excited! On line time one morning the class of twenty four students went out to the garden and everyone picked a leaf from a well producing head of lettuce. The teacher brought in carrots and cherry tomatoes and during the lesson, all the teacher could hear was "crunch, crunch, crunch!"
The classes in the school stored their veggie and fruit scraps from snack time for the compost pile. The students took turns taking the scraps outside and turning the soil. I think they were most excited about this part. I provided a list of ideas and experiments the classes could do for the Spring season – bean counting, celery in dye, making paper pots (see image 4), rain sticks, and more.
At the community garden (see images 5 and 6) and at the school garden, we used no toxic chemicals. We used goat manure and compost and used other natural methods to get rid of pests and to keep the plants healthy and strong. While volunteering at both of these locations, I started my own compost pile at home.
I started my first in-the-soil garden in April of this year. I had a small harvest of tomatoes but everything else died. It gets really hot in the desert and we are under a water restriction so that didn't help but I still tried and will keep on trying. Eventually though, I will be purchasing a vertical gardening tower that self-waters and there is no soil (or weeds). I will continue with my dirt garden to grow lots of root vegetables.
In August, I met up with a teacher from the Montessori school and she shared with me the garden was still producing tomatoes up until the end of July!! The children from the summer program were able to eat "homegrown" tomatoes because their classmates took joy in learning how to garden the season before – many of them were the ones who planted the seeds in the Spring.  Such a gift.
As my quote says, just start.
Today is the day you can start a container garden or a potted herb plant like basil or you can plant some wildflowers or honeybee friendly flowers. Maybe you have a community garden project in your city? Maybe you and several other parents can get involved in a school garden? Perhaps a vertical gardening tower is more up alley? As a certified health coach, my goal is to help families understand the value of eating more fruits and vegetables as close to the source as possible. Will you help me share the word about the importance of eating the [real] rainbow with your loved ones?
Our city's community garden, the entire project is run by volunteers, and we share our produce at the end of each season.
The manager of a local store allows us to set up our tables and share the abundance with residents – we give it all away! What another gift!! At the end of our summer season, we fed over 75 families.
That makes my heart happy! You, too, can make a difference. Believe it!