Great news for stay-at-home parents!
Great news! Remember the credit card fiasco which unintentionally prevented stay-at-home parents from getting credit cards?  (I wish I didn't!)
Last week in his testimony before Congress, Consumer Financial Protection Bureau (CFPB) Director Richard Cordray indicated that the CFPB would soon issue rules to restore stay-at-home parents' fair access to credit.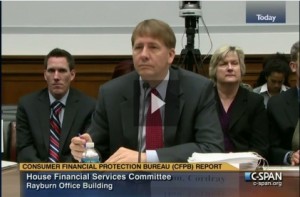 CFPB Director Cordray testifying before Congress
Specifically, he said:
"We have determined it is a significant problem. There are tens and perhaps hundreds of thousands of people who have been denied access to credit as a result of how the law was interpreted.  We do intend to face this issue and resolve it."
CFPB Director Cordray's commitment comes after we personally delivered our MomsRising petition with over 10,000 signatures calling on the CFPB to review the Federal Reserve's interpretation of new credit card rules under the 2010 CARD Act.  A few months ago, we renewed this call when MomsRising shared your stories during our testimony before Congress about this issue.
Join us in saying, "Thank you!" to the Consumer Financial Protection Bureau for listening to our concerns and pledging to correct this unfair rule!   http://action.momsrising.org/sign/CFPB_Thanks/
We've got to let the CFPB know that we will stand behind them as they work to correct the CARD Act to protect stay-at-home parents' access to credit.  The CFPB has and will continue to have a long agenda – so we need to keep this issue at the top of their list in the coming months and make sure they issue new rules to fix this issue as they promised.
What's this all about?
Beginning in October 2011, credit card companies were required to consider individual, not household income, as part of the CARD Act (Credit Accountability, Responsibility & Disclosure Act) passed by Congress in 2010.  Congress intended the law to protect consumers from misleading lending practices and prevent young adults from getting excessive lines of credit without supporting income but the Federal Reserve interpreted these rules broadly and included any individual who did not have income in their own name.  In fact, the CARD Act's Congressional authors had no intention for the CARD Act to make stay-at-home parents second-class citizens in the financial world and they appealed for the new Consumer Financial Protection Bureau to use its oversight authority to change these rules.
The interpretation that required credit to be based on individual, not household income, was a radical change and has negatively impacted stay-at-home parents, widows, and any non-working spouse. This was a big shift in policy and was a change that did nothing to help credit card companies accurately assess an individual's credit-worthiness. In fact, for this reason, credit card companies opposed this specific change.
MomsRising and Change.org delivery of 50,000 signatures
We've heard from hundreds of moms who've been unfairly denied credit simply for being full-time caregivers.
For example, MomsRising member Holly McCall of Vienna, Virginia was denied a credit card in her name because she is a stay-at-home parent. Holly and her family feel lucky that she can stay at home to take care of her two young boys because her husband has a well-paying, stable job. As a result, they have excellent credit history and no debt. But even so, she was denied a credit card.
Think this has been just a small inconvenience for Holly and millions of others?  Think again. The interpretation of the CARD Act has meant stay-at-home parents can only get access to new credit cards by having their spouse co-sign their application.
As a result:
Stay-at-home parents may not be able to build an independent credit history they can rely upon in the case of spousal death, separation, or divorce.
Partners in abusive relationships may have difficulty leaving a spouse due to the financial constraints of not having their own credit established.
Widows or divorced spouses without their own credit history would find it impossible or very difficult to rent/own a home or secure future credit.
Join us in celebrating this major victory and taking action to get this issue resolved.
And be sure to check out MomsRising member Holly McCall, who started our petition, talking about the CFPB's recent action on CNN's Headline News.