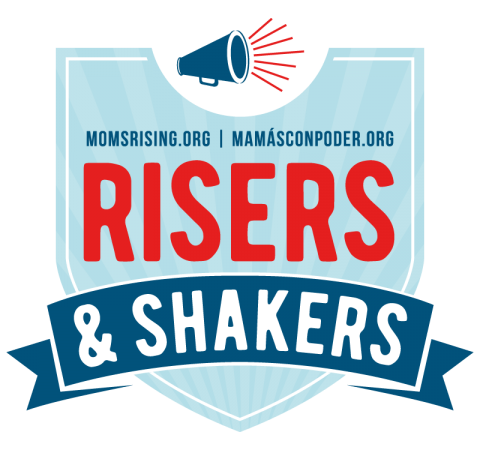 You've all have been busy since we were last in touch! I've seen great posts from you around so many of our issue areas (especially health care, immigration and paid family leave). Thank you for continuing to resist in the best way you know how.
As we move forward, we want to keep the communication lines open because we want to hear from you. To that end, we have created a Facebook group where we hope to continue spreading the word about issues that affect our country but also, we want to hear what matters to you personally and help amplify your voices on topics that you're passionate about as they intersect with our work.
Can I get personal for a second? November always kicks my gratitude moments into high gear. I know this year, probably more than any in the past, I'm grateful for you. For your voices, your strength, your tenacity as you fight, in your very own amazing ways, for your families and community. I'm grateful that you do not stop, in spite of the circumstances. I'm grateful that you raise your voice alongside mine.
And for that, I want to say thank you! Now, let's get to raising our voices!
TOP STORIES & ACTIONS
Social Media Toolkits for: Open Enrollment | Latina Equal Pay Day | The Budget | Release Rosa Maria
Upcoming Screenings
New York: Zero Weeks
If you're in New York City, we wanted to let you know about a press screening for a new groundbreaking documentary detailing how the United States is one of the only two countries worldwide without paid leave. Zero Weeks, a film by award-winning director Ky Dickens, weaves powerful personal stories with insightful interviews and explores America's paid leave crisis and the cost of doing nothing.
The press screening will be on Thursday, November 2 at 10:00 am ET at the Tribeca Screening Room. Feel free to RSVP here.
Los Angeles: Death By Delivery
Join MomsRising.org, Black Mamas Matter Alliance, NPR, ProPublica and Black Women For Wellness for a screening of The Naked Truth: Death by Delivery, created by Fusion TV. The documentary examines the rising number of deaths of expectant mothers in the U.S., particularly of pregnant black women. From Atlanta to New York to Los Angeles, meet the doctors, doulas, midwives, and, of course, the mothers themselves who are fighting to end this tragedy of neglect on Nov 10th, 7pm PT at the California African American Museum in Los Angeles! RSVP to attend the event here.
NOT IN L.A.? Then catch it streaming on FB LIVE via MomsRising's FB page, facebook.com/MomsRising.org  on November 10th 8:30-10:00 pm PT/ 11:30 pm-1:00 am ET.
Taking Action
Latina Equal Pay Day
November 2nd is Latina Equal Pay Day - a day to mark how Latinas in the United States have to work ALL of 2016 and until November 2nd of 2017 to finally earn as much as white men earned in 2016 alone. On average, Latina women make only 54 cents for every dollar paid to a white man for equal work. MomsRising argues that this incredibly large pay gap, the highest in the nation, hurts women, families and our national economy and MomsRising marks the day to highlight the urgent need for action to close the wage gap for Latina women. Our bilingual social media toolkit provides ways you can amplify the message as we look to end the wage gap.
The Budget
Congressional Republicans, egged on by President Trump, are proposing massive budget cuts to programs like Medicaid, SNAP (food stamps), WIC, childcare assistance, and Head Start, not to mention hampering funding for veterans affairs, K-12 education, and emergency disaster relief that allows us to respond to natural disasters like Hurricanes Harvey, Irma, and Maria. The House of Representatives already has a budget that would massively cut programs that assist struggling families—in fact 1/3 of their budget cuts fall on the backs of families trying to make ends meet and put food on the table. Meanwhile they are simultaneously drafting tax proposals that line the pockets of their rich friends, golf course owners, and Wall Street executives.
We need your help educating the public on how little this tax package helps their families (hello! Trillions of dollars in tax cuts to the rich and corporations. Trillions!) and how much we risk losing if we don't speak out.  Check out (and share) this video that helps explain some of this!
Health Care: Open Enrollment 
As you might imagine, we've been doing a lot of work to #ProtectOurCare. We've fought alongside many of you to ensure that people in this country get and stay covered. We have just entered a real important time: Open Enrollment. This year, open enrollment is the shortest it has ever been, November 1 to December 15. So, we need all hand on deck to get the word out. Will you take part as an #ACADefender? We will be updating the toolkit throughout the enrollment period so check back often!
Rosa Maria
Last week, five Border Patrol agents took Rosa Maria, a 10 year old girl with cerebral palsy recovering from an emergency gallbladder surgery, away from her family and doctors into ICE detention.
This is cruel and inhumane! She is a 10 year old child that needs support from her family, care from her doctors and needs to be released from detention!
Join us in demanding that Rosa Maria is released from detention and able to return to her family to receive the care she needs by sharing social messaging. Click here for a bilingual toolkit.
#GivingTuesday
It's November and that means we are kicking off our #GivingTuesday campaign! Save the date: November 28th, 2017! We'll share more details via our social channels and in our influencer group leading up to the big day. Stay tuned!
A Note From the Blog
Happy Autumn, influencers! It's been a busy season between fighting for health care, standing up for families in the federal budget, cosponsoring the Women's Convention, and more. We've been publishing highlights of our work on the MomsRising blog alongside personal stories, videos, and policy analysis from you all.
Keep up the great work! As always, we will proudly promote your writing across our social media channels, connect you with readers who reach out to us with interest in your work, and connect you with each other. #KeepMarching and #KeepWriting!
- Anita, Director of Digital Communications, Editor in Chief of the MomsRising Blog
Blog Highlights
Check out these posts recently published on the MomsRising blog:
We're proud to publish unique perspectives on family, community, feminism, and the spectrum of issues we cover. Your work can be featured on our blog, too! Don't hesitate to reach out if you have questions about posting with us. Thank you!
TIPS & RESOURCES
How It All Began...
Want to know the inspiration behind MomsRising? Check out the Motherhood Manifesto documentary from the comfort of your own device!
CONNECT
MomsRising has four standing tweet chats around some of our issue areas. These chats garner millions of impressions every week! If you have a moment, we hope you'll join us.
#MaternalJustice is a chat focusing on justice and equity throughout the experience of motherhood focusing on the greater systemic issues mothers face due to race, class, and gender disparities. The chat takes place every last Monday of the month from 8-9pm ET and covers issues including health care access, fair pay and paid family leave, police reform and accountability, ending the school to prison pipeline and mass incarceration, and fair immigration policy. National partners, organizations and individuals come on every week as guests to impart information and resources for our tweetchat participants.

#WellnessWed is a health-related chat hosted by MomsRising.org. The chat takes place most Wednesdays at 2 p.m. ET/11 a.m. PT and covers all matters of healthcare and health related topics from open enrollment, to mental health and beyond. National partners, organizations and individuals come on every week as guests to impart information and resources for our tweeters.

#EarlyEdChat is a bilingual and weekly twitter chat hosted by MomsRising.org and its Spanish arm MamásConPoder.org. It's held every Thursday at 2pmET and covers all early learning issues from access to high-quality childcare to equity and quality in preschool. It generally attracts early learning advocates and organizations and parents.

#FoodFri is a focused on all things food: access to healthy foods, healthy meals, food justice and a myriad of other topics that matter to moms and families.
Don't forget to join us in the Risers & Shakers Influencers Group on Facebook and for all you Spanish speakers out there, feel free to join our Mamàs con Poder Facebook group.
If you don't receive this message in your inbox, sign up and we'll be sure it finds its way there next month!