Governor Brown Pays Surprise Visit to Strategic Growth Council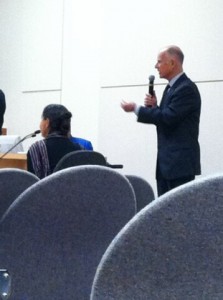 California Governor Jerry Brown pays a visit to the Strategic Growth Council.
The regular meeting of California's Strategic Growth Council (SGC) took an interesting turn this week when Governor Jerry Brown decided to stop in for a visit.
"What's on the agenda?" Brown quipped when he stepped in the conference room.
Created in September 2008, the SGC works on improving the health of California by protecting our natural resources, improving housing and transportation, and assisting state and local entities in the planning of sustainable communities.
The SGC had just heard testimony from Linda Rudolph of the Department of Public Health about the priority recommendations of the Health in All Policies (HiAP) Task Force. The 19 member Task Force released 34 policy recommendations in December 2010 aimed at improving the health of Californians by influencing non-health related decisions such as transportation and land-use planning, two areas that seemed of special interest to the Governor.
Perhaps most significant was the clear and concise declaration of support made by Brown for the ongoing work of the HiAP Task Force and the SGC. This will be very important as the SGC and HiAP Task Force move into the implementation phase of the "health in all policies" recommendations.
The two bills we sponsored in this legislative session, AB 441 (Monning) and AB 727 (Mitchell), derived from the HiAP Task Force's recommendations. AB 727, which passed through the state Assembly this week, would require the state to adopt a sustainable food procurement policy that would promote healthy foods, local economies, and the environment. AB 441, which stalled in the Assembly Appropriations Committee, would have included health and equity criteria in the California's Transportation Commission's Regional Transportation Plan guidelines.
You can visit our website for more information about these bills and efforts to advance this "health in all policies" strategy.