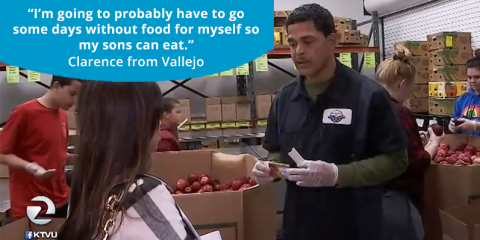 Government shutdown ends, hardship continues
The Food Bank of Contra Costa and Solano is relieved congressional leaders and the administration reached a deal last week to temporarily re-open the federal government. However, we remain deeply concerned about the lasting impact this shutdown will have for federal workers and contractors, food assistance recipients, and emergency food providers like the Food Bank.
While federal workers will receive back pay, more than a million federal contract employees will not. This is a significant financial impact, as almost 10% of their yearly pay was lost during the shutdown. We anticipate that both federal workers and contractors will continue to need food assistance as they recover from this financial hurdle and brace for the possibility of another closure.
The uncertainty of the shutdown also caused an early issuance of February Supplemental Nutrition Assistance Program (SNAP) benefits. Families and individuals received February benefits on January 16. This has created a "SNAP gap" that is likely to cause significant financial strain for SNAP participants, who will go 40 to 60 days without a benefit payment. While the total amount of nutrition assistance will not change, the long gap between the availability of benefits will cause hardship for many households and further strain the emergency food assistance network.
SNAP typically provides families with about two to three weeks of food, and a third of all recipients already rely on food banks to make ends meet for the remainder of the month. In addition to creating a great amount of confusion, this prolonged gap between nutrition benefit payments will create an unprecedented strain on emergency food networks like ours.
Click here to watch the KTVU story that recently ran about a volunteer personally impacted by the shutdown.
There is also the very real concern that an agreement on a long-term spending bill may not be reached by February 15 and we could have another shutdown. If this occurs, the same budgetary provision used to pay out February benefits could be utilized to distribute April benefits early. While this may be necessary in order to ensure that people receive April benefits, it would create another straining and confusing SNAP gap. If the government were to shut down again for an extended period of time, May SNAP benefits would face an uncertain future.
The Food Bank is calling on the administration and Congress to reach a long-term compromise as soon as possible in order to allow the federal government to remain open and alleviate the stress, hunger, and hardship the partial shutdown has caused for millions of Americans.
Tell your elected officials today: the government MUST stay open. Every elected official – from the White House and halls of Congress to local and state leaders – needs to understand that nearly 40 million Americans' food assistance is on the line if the government shuts down again.
This article was originally posted by Policy and Advocacy Manager, Carly Finkle, on the Food Bank of Contra Costa and Solano blog.