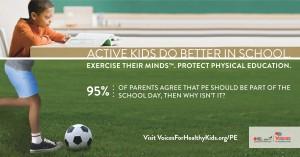 Good Food Force Update: Only 4% of elementary schools??
Hello! We hope you're having a great week. In this edition of the Good Food Force Update, we're talking about the importance of physical activity in schools. Research shows kids need an hour of physical activity every day. But are they getting that? You'd be surprised by the answer. Find out more below. And as always, please share this update with anyone who's equally passionate about healthy families and communities. Thank you! 
1. TOP STORIES
4% Isn't Enough: Making the case for physical education in schools
Kids having an active school day = kind of a no-brainer, right? We agree. But that's not the reality for too many of our kids. Only 3.8% of elementary, 7.9% of middle and 2.1% of high schools provide daily PE or its equivalent throughout the school year. Oregon and DC are the only two states meeting the national recommendations for weekly time in PE at both elementary and middle school levels, according to the new Shape of the Nation report. Ouch! Here's why it's such a big deal, and how you can help to make the case for PE!
Active kids learn better. They focus and think better. 
PE programs also improve judgement, reduce stress and increase self-esteem. It can have a positive impact on cognitive ability, help kids avoid tobacco, and reduce their risk for insomnia, depression and anxiety. 
Physical inactivity contributes to heart disease, diabetes and obesity. Eliminating PE programs can have lasting impacts on mental and physical health. 
Making sure all students are getting PE is a critical part of keeping kids healthy. Schools should offer a minimum amount of daily physical activity as part of their education programs. Here are some easy ways you can help the cause:
2. TIPS AND RESOURCES
Great news -> New York Budget Deal With Higher Minimum Wage Is Reached, by Jesse McKinley and Vivian Yeemarch in the NY Times. March 31, 2016.

New report from @FRACTweets and @CenterOnBudget: Community Eligibility Adoption Rises for the 2015–2016 School Year, Increasing Access to School Meals. "In the 2015–2016 school year, its second year of nationwide availability, more than 18,000 high-poverty schools, in nearly 3,000 school districts across the country, have adopted community eligibility, an option that allows qualifying schools to offer breakfast and lunch at no charge to all students…This is an increase of about 4,000 schools compared to the prior year…" 
Our hats off to the people in more than 300 cities who took to the streets last week to demand a $15 minimum wage as part of the #Fightfor15 campaign yesterday. More on their website.  
Making Strides report cards from Safe Routes to School National Partnership and the YMCA assess each state on 24 indicators specific to walking, biking and active kids. 
3. CONNECT
Call for Submissions!
We're eager to profile the great work you're doing in your community, state, place of worship, or home. This month we're shining a spotlight on gardening, food access and more through the Good Food Force Updates. Please get in touch with blog posts, stories, photos or ideas you'd like us to include. As the saying goes "Anything we can do, you can do better!" :). Email karen@momsrising.org. 
#FoodFri Tweetchat: Every Friday 1pm ET 
Join us for upcoming chats this month, including:
April 22: Soda Marketing, with guest @EcologyCenter
April 29: Food Dyes, with guest @CSPI
May 6: Race, Food and Diabetes, with guest @UCSUSA
4. SPOTLIGHT
Reading and PE = Hand in Hand in Naperville Central High School
In 2003, Naperville Central High School realized that some of their students were not preforming at the grade level due to poor reading skills. To tackle this issue without eliminating physical education from daily school programs, Naperville Central created a zero hour PE class so that students taking the elective reading class could still participate in PE. The class was designed because research showed that students who were physically active and fit were more academically alert. Since the beginning of that program, student grades have drastically increased from 2003 to 2011, and students who were physically active were getting better grades overall. Read the full story here. 
5. PLAY
In honor of this week's theme, we're resharing some of our favorite content around getting active with the family outside of the school day (remember: both are important!)...
How to Create a Fitness Plan, by Elisa Batista 
Como crear un plan de entrenamiento físico cuando es una mamá ocupada, Elisa Batista 
How to Incorporate Exercise in Your Family's Daily Activities, by Cristina Ramirez
 
Good Food Force (GFF) Volunteers are real-life superheroes who take action in their schools and communities, and/or on their blogs and online networks, to get the word out about healthy school foods, junk food marketing to kids, and strategies that are working to reduce childhood obesity. Together with MomsRising.org staff, they help advocate for healthier kids and families. Help spread the word! Contact us: karen@momsrising.org