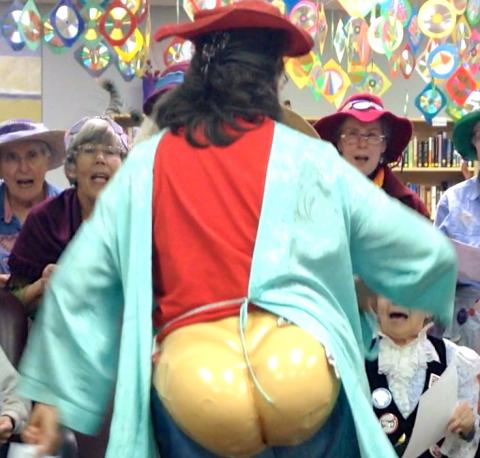 Mary first caught my eye as she strode down a busy thoroughfare in a flimsy hospital gown, with the sun glistening off (what looked like) her bare buttocks.
"Uncovered" was the message on her sign. She and her friends, Seattle's Raging Grannies, took to the streets that day, alongside thousands of others, to protest the fact that too many Americans simply couldn't afford health insurance. Had there been a prize for best costume, Mary would've won, hands down. The Raging Grannies made a difference that day by adding their creativity and spunk to the tidal wave of public pressure that pushed Congress to enact the Affordable Care Act in 2009.
Today, the Raging Grannies celebrate the good things our new health law has brought to people's lives:  from little things, like Julie's free flu shot, to mid-size things like Kristi's free IUD and Ingrid's free colonoscopy, to big things like the brain surgery that saved Joie's life.
But with enrollment deadlines and tax day just around the corner, Mary decided it was time to pull her costume out of the closet, once again.  Enjoy as the Raging Grannies sing, and Mary shoots the moon, to make an important point:  NOW is the time to sign up for the affordable health insurance YOU need and deserve.
Then shake your backside straight over to a computer and get your own buns covered. Remember, tax penalties go up the longer you delay enrolling.
·     If you live in Washington State, go to wahealthplanfinder.org and sign up before the April 17, 2015 deadline.
·     If you live in another state, go to healthcare.gov and sign-up before the April 30, 2015 deadline.
Don't leave yourself exposed to medical debt: #Get Covered Now