Front-of-Package Labels that Market Children's Food Products Hide Truth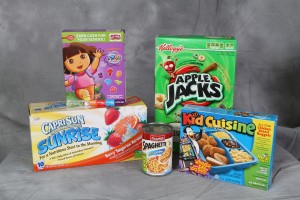 When I go grocery shopping with my year-old daughter Mirabel, it's clear that what she lacks in life experience she makes up for with a keen sense of which products were designed just for her. The cereal boxes clad in cartoon characters and soup cans outfitted with Disney princesses already attract her eye, and her hands.
While Mirabel chooses products based on the visual appeal of their packaging, I, like most harried parents, rely on food labels to help me make quick decisions about which options are the healthiest for my daughter.
That's why I was proud to be part of Claiming Health, a new study by Prevention Institute that looked at one common kind of food label aimed at helping shoppers choose healthier products – front-of-package (FOP) labels.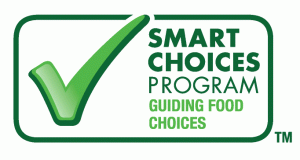 FOP labels are those symbols or images that you see on products that highlight specific nutrients or food groups or just plain label a product as a "smart choice" or "sensible solution."
Our study looked at the front-of-package labeling on fifty-eight "Better-for-You" children's products—those that manufacturers tout as their most nutritious—and found that 84% failed to meet basic nutrition standards for sugar, fat, saturated fat, sodium, and fiber.
Eighty-four percent failed to meet basic nutrition standards. As a nutritionist, this number is shocking; as a parent, it's an outrage. Take Campbell's Spaghettio's Plus Calcium: With a whopping 600 mg of sodium per 170-calorie serving, it has well over one-third of the daily sodium limit for little Mirabel while only providing about 15% of her daily calorie needs. Bottom-line: More often than not, companies are leading parents to believe that food is healthy when, in fact, it isn't.
What else did we find? Ninety-five percent of these products contained added sugar. More than half (53%) did not contain any fruits or vegetables whatsoever. With all the hurdles parents face to safeguard our children's health, the last thing we need is more junk food cleverly packaged to appear healthier.
You may wonder how companies are able to get away with using FOP labels that don't paint a full pi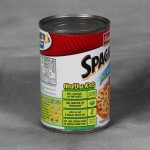 cture of the product inside. While some parts of food packaging – think of the nutrition facts panel and ingredients list -- are overseen by the FDA, front-of-package labels are unregulated.
Right now, the FDA is working to draft proposed regulations to set uniform standards for FOP labels. Food and beverage manufacturers appear to be trying to head off these regulations with a new voluntary industry-led front-of-package labeling initiative, to be announced next month. Our study is a stark reminder that food and beverage manufacturers already oversee FOP labels, and it's not working.
Without FDA regulation, instead of giving more information to parents struggling to make the best decisions for their kids, we are being misled. As Michelle Obama has said, parents shouldn't need a calculator and a magnifying glass to find the healthiest foods for their kids. The question is, do food companies want to be on the side of parents and give them helpful information, or don't they?
Read the entire report, Claiming Health: Front-of-Package Labeling of Children's Foods.
Don't take our word for it: View our images of what's really inside the box and vote on the worst offenders on our Healthy--or Not slideshow.