From Quinoa to Tater Tots- Food Justice in Our Schools
My four year old eats quinoa every Tuesday at her preschool for snack. Wednesdays they get carrot soup for lunch. Fridays they bake bread. She's lucky to go to a school that sees healthy food as integral to her growth and development, and we're lucky we can afford to send her there. Because, of course, this school is a private one. Well, obviously it's private as we don't have free preschool in this country, but that's another blog post. Today's post is about how wrong it is that when my daughter goes to kindergarten, there's not a chance in hell that her food will be anywhere near as healthy.
I used to think that most kids in Seattle got more or less equal access to the the produce that abounds in my neighborhood. Being new to the area, I didn't know that all I had to do was travel five miles south to see a starkly different scene.  In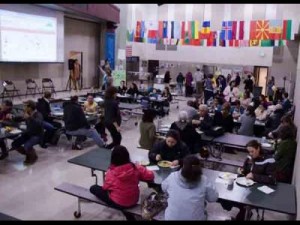 Families and community leaders gather at Concord Elementary School at a neighborhood forum to lobby for healthier school nutrition policies. Photo by Austin Siadak.
South Seattle and the neighboring cities of King County, many have to take multiple buses to get healthy produce. Diabetes prevalence and mortality rates for African-Americans in King County are among the highest in the nation. In short, King County reflects the health inequity of our nation as a whole. And school lunches, well, sure they're better in certain neighborhoods, but kids in wealthier neighborhoods still have soda vending machines in their school hallways, and they still have tater tots in the cafeteria.
For the past year and half, I've been working on an obesity prevention initiative looking at the ways that where we live, work, and play impact our health. I've met people like Paulina, who tells a compelling story about struggling to provide healthy food for her children while living in a food desert. I've been inspired by the work of Lena and her friends who are doing their best to convince their school leadership that they would eat healthier if given the chance.  I've heard directly from people like Dorsal, who are doing their best to reduce their addiction to soda. I think about Lena, Paulina, and Dorsal all the time when I walk down the hill to our local food cooperative. Their stories reflect the harsh reality about the connection between our neighborhoods and our bodies-- And you can bet that kids in their neighborhoods aren't getting quinoa for snack at their schools.
While I know the quality of my kids' school lunches will dramatically decrease as they move onto public elementary schools, I'm fairly confident that they won't grow up to be obese. They have the advantage of living in the right neighborhood, a strong foundation of healthy eating, and parents who are committed to vacuuming the kale chips that litter our carpet all summer long. But I know that kids eat almost fifty percent of their calories at school. They're kids after all, they'll take the tater tots any day. So why make them choose between healthy food and junk?
As a country, we haven't changed our guidelines for school nutrition in over thirty years. We need to update and strengthen policies at the federal, state and school district level that address healthy eating. And we need to start with the neighborhoods with the least access to healthy food--with the kids that need it the most.
To learn more about Mapping Our Voices for Equality, a grassroots strategy using new media to reduce health disparities in King County, visit our website at www.mappingvoices.org
Cross posted at Creative Narrations.
Natasha is a mother of two and co-director of Creative Narrations, a multimedia consulting and training company. Becoming a mother has driven home the importance of public and environmental health issues and her work has heightened her anger at the inequity in her home city of Seattle.