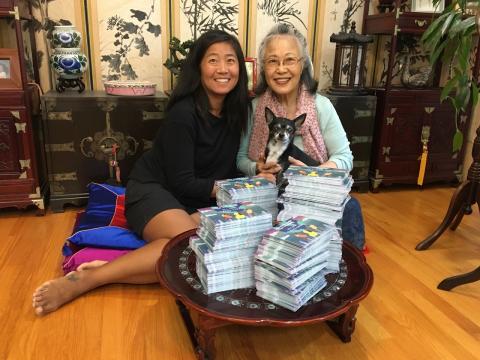 From one volunteer to another: Donate to MomsRising today
Today I want to introduce you to a standout MomsRising supporter. Meet Miyun, a MomsRising volunteer who hand-wrote 2,500 postcards with her 80-year-old mom.
Miyun shared her story and picture with us:
Thank you so much for sending me 2,500 postcards. Even though my fingers and hand hate me now, it's been so empowering writing messages to help get out the vote. My 80-year-old mother, Kyujung, despite the terrible arthritis in her hands, helped me, too. She could only write three postcards at a time, but she was so happy and thankful to be able to participate in this critical effort.

I've been involved in social justice activism for most of my life—human rights, animal rights, environmental integrity, and more—and knew I had to do more to help get out the vote. When I heard about MomsRising, I jumped at the opportunity it provided to do just that. In the midst of a global pandemic with so much fear and uncertainty surrounding all of us, we need to fight even harder for our future. Thank you, MomsRising, for your leadership.

Again, THANK YOU for all you do and all you enable us to do as volunteers!

Warm wishes,
Miyun
This is the kind of power and spirit that saves democracy, moves critical COVID relief forward, and keeps our MomsRising movement strong everyday! 2020 has been a year of physical distancing, but also of powerful movement building. And you have been a big part of that. We hope you can now donate to the life-changing work of MomsRising , which means not only advancing key economic security and justice policies, and moving voters to ballot boxes, but also empowering volunteers like Miyun and her mother.
The truth is: We need your support now more than ever. It's because of individuals like you making donations right now that we're able to do everything that needs to be done to produce complex--and highly effective-- campaigns like the postcard campaign.
And it's because of supporters like you that we can think even bigger for 2021! Together, we've accomplished so much in 2020, despite truly monumental challenges like dealing with a devastating pandemic. That's why we know we can count on you, on us, together, to win even more for families in 2021. Can you chip in to support this work today?
We have BIG plans to build on the progress we made in 2020; and to make even more gains for parents, families, and children in 2021. Can you support this vitally important work with a donation today? Please let us know you're with us by making an end-of-year contribution as we plan for 2021!
Together with supporters like you, we WILL continue to make progress, advance justice, and empower change. Please chip in what you can today to help MomsRising go into 2021 with strength and power! https://action.momsrising.org/donate/2020_yearend_donation/
Thank you for all you do!
P.S. There's one more easy thing you can do -- please share this blogpost now with friends and family so we can raise our voices even more powerfully in 2021!
P.P.S. We made a minute-long video on the wins you powered in 2020! *Check out the short video here and please share!