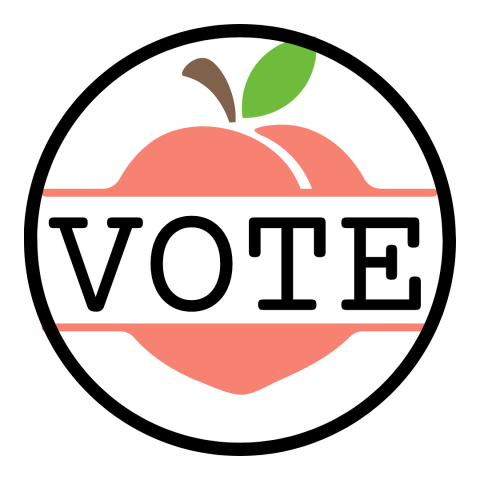 From One Mom in GA to Another: Vote!
Today (Friday, Dec. 2) is the last day of early voting for the Georgia Runoff election. I thought about waiting until election day, but with three kids, there's always a chance that something will come up and I didn't want to take any chances on securing my vote. The first time I voted in a major election in Georgia, I voted early, too - ages ago, in college and it was halloween. I opted to change out of my halloween costume before getting in the long line of other early voters. This year was no different, minus the costume, plus a few (several? many?) years. 
It's important for many others across Georgia, too, as long lines prevailed and the record for the number of ballots cast on a single day of early voting was broken. Moms across the United States have their eyes on Georgia and we asked them to share words of encouragement reminding you to get your vote in on (or before) December 6.
Plan ahead and make sure you're ready to vote with this easy to use voting tool. 
"After 40 years, I got my US citizenship and finally got the chance to vote. I'm so excited because I know voting makes a difference, especially when we all get out there to vote."
    Felicity
    Tacoma, WA
"Voting is your chance to be heard! Your community is counting on your to VOTE in this very important Senate Runoff election! I'll be voting and I hope you'll head to the polls on or before Tues. Dec 6th. With sincere thanks from a fellow GA voter"
    Anon
    Decatur, GA
"I'm a mom, and I make sure to vote in EVERY election -- not just for myself, but for my child, who is still too young to vote and depends on me to take actions that will improve his life and his world. For the child or children you love -- whether your own or someone else's! -- I hope you will also take the opportunity to make a difference by being a voter on or before December 6th in this extremely important runoff election!"
Laurie
Medford, MA
"Thank you for being a voter! You are a difference maker! We get one more opportunity to make a difference- please vote on (or before) Dec. 6 in Georgia's runoff election." 
Annie D, GA mom & voter
"As Moms and Grandmothers, voting is the most important tool we have to make the world a better place for our children! Let's show them how we do this and go out to vote on or before December 6th in the Georgia run-off election!"
    Teresa
    S Dennis, MA
"From one Georgia Mom to another, the best thing we can do for our children's future is VOTE! And now, I'm voting for my grandchildren too. Please join me. You and I know Moms are Mighty!!"
    Joyce
    Marietta, GA
"The results of this runoff election will determine so many important policies which, in turn, will affect the lives of mothers and their kids all across our country. Please vote on (or before) December 6th!"
    Anon
    Bakersfield, CA