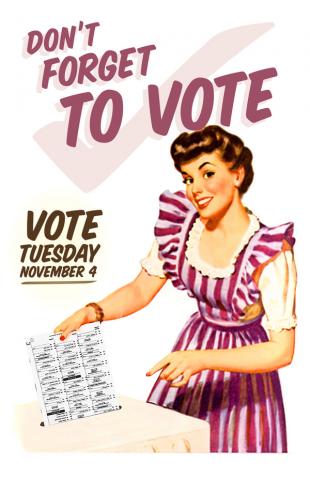 From Cuddling to Canvassing
Lately, our idea of a hot date is to fling ourselves onto the couch. Then my husband casts me a knowing glance. I nod.  And the big turn on begins. With the touch of Casanova, he fondles not just one, but five remotes, as we settle in to enjoy the PBS series about Theodore, Franklin and Eleanor Roosevelt.
Sexy? Not even I am that clinical.  But there is something satisfying about watching this series with the man I love.  Together, we learn tidbits of history that help us make sense of our world. We gasp at a sepia image of shacks dotting an urban waterfront.  Could that be Seattle? These communal moments spark some of our best conversations.  Strange, I know, but every night we drift off to sleep wanting more.
And the inspiration lingers.  Yesterday, the words of Eleanor Roosevelt gave me the courage to face the dreaded box I've been avoiding all summer, the one that's overflowing with snail mail:
You must do the thing you think you cannot do.
 I told myself if she could answer the letters of thousands of desperate Americans during the Great Depression, surely, I could process my junk mail.  Then, amid the tangle of credit card offers and clothing catalogs, I lit upon one, truly important letter.
It was from a woman who is running for the state senate.  She is challenging a guy who has occupied this seat for years, but does little for families, choosing instead to play political games.  Last year, he nearly forced our state government to shut down, which would've hurt lots of people. The gridlock is so out of hand parents are running bake sales to pay teacher salaries.  Sound familiar?
I had the pleasure of meeting this woman recently.   She raised three kids, managed a successful business and understands the challenges families in her community face.  She will champion quality education and a level playing field for all. So yesterday, we got off the couch and doorbelled for her campaign.
In my family, this activity is practically a tradition. My mom had me knocking on neighbors' doors when I was 8.  Who can resist a polite little girl in sneakers asking you to vote for the school levy? Later, as a snotty teenager, I'd complain about mom's casseroles, especially if I had to pull one out of the oven as she headed off to a League of Women Voters meeting. But guess what?  I am a better citizen today because of my community-minded mother.
Election Day is November 4.
To find good candidates running for office in your community check out:
PS. Eleanor Roosevelt was the busy mother of 6 in 1920, when women won the right to vote.  She realized we'd need reliable information to wield power wisely.  So she devoted herself to the League Of Women Voters.