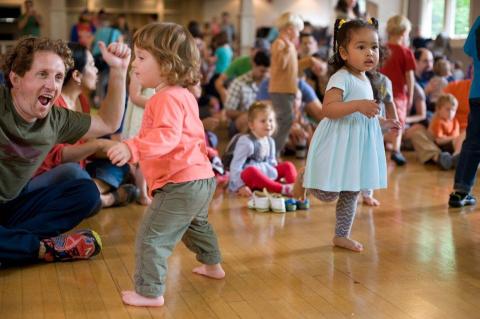 FREE Family Celebrations in Washington State!
MomsRising is hosting FREE family celebrations in Des Moines, Everett, and Auburn, Washington featuring live musical entertainment by kid-entertainer extraordinaire Eli Rosenblatt, arts and crafts by Seattle Recreative, face painting, and plenty of kid- and adult-friendly food to go around.
Why are we celebrating? Because beginning in 2020, all Washington workers will have access to paid family and medical leave. This victory is huge and it is in no small part due to moms, dads, and family members like YOU raising your voices for a strong policy that meets the needs of Washington families. 
Now it's time to celebrate!
Please join us for one (or all!) of our events in Des Moines, Everett, and Auburn, Washington. Click on the event(s) you'd like to RSVP for:
We need you there! Why? Because we'll be joined by legislators whose support made this victory possible. It's critical that our legislators know that their leadership on the issues that matter most to children, families, and communities – including paid family and medical leave – is valued.
It's sure to be a great time for children and adults alike! For the children among us, we'll have a performance from kid-entertainer extraordinaire Eli Rosenblatt, arts and crafts by Seattle Recreative, and face painting. And for the adults among us, we'll have lots of information about how the new paid family and medical leave program will work. A FREE dinnertime meal, snacks, and dessert will be available for guests of all ages!
How did we get here? On June 30, the Washington State Legislature passed a bipartisan bill providing paid family and medical leave for all Washington workers. The bill was signed into law by Governor Inslee on July 5. Beginning in 2020, Washington families and businesses will benefit from a paid family leave program that includes 12 weeks of family leave and 12 weeks of medical leave with a 16-week annual cap (plus two additional weeks of paid leave for individuals who experience maternity complications). What's more, the bill includes a progressive wage replacement benefit, universal coverage, and continued FMLA job protection.
Over the past year many of you joined us for our statewide, bipartisan listening tour that included three members of Congress, 11 members of the Washington State legislature, 17 local councilmembers, numerous business leaders and representatives of more than 60 community agencies and organizations. And since January, members like you all across the state have made hundreds of calls to their state legislators, attended town halls, placed letters-to-the-editor in local newspapers and sent tens of thousands of emails (over 35,000!) to encourage your representatives in Olympia to support paid leave.
We want you to be part of the celebration. Please say you'll join us! Contact WAinfo@momsrising.org with questions.